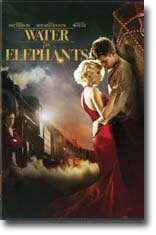 Sara Gruen's bestselling novel comes to glossy life in this period romance. A sparkle-free Robert Pattinson plays Jacob Jankowski, who studies veterinary medicine during the Great Depression. After a family tragedy, he loses everything, including the chance to graduate from prestigious Cornell, so he hops a train, where he finds himself part of the struggling Benzini Brothers Circus.
Ringleader August (Christoph Waltz) has doubts about the softhearted lad, but a fellow Pole smoothes the way, and Jacob becomes the company vet, which leads him to platinum-blond equestrian Marlena (Reese Witherspoon), August's wife.
Jacob and Marlena make eyes at each other, but an affair would surely end badly, so they concentrate on their work. When Marlena's prize steed falls ill, August purchases an elephant, hoping Rosie will turn their fortunes around, and enlists Jacob to train her. Unfortunately, she's slow to respond to commands until Jankowski unlocks her secret–and after August has beaten the poor thing into submission.
After that, things start to look up until Jacob steals a kiss from his dream girl. An elderly version of the central character (Hal Holbrook) narrates in the present day.  The film opens with the old man wandering into the parking lot of a circus that is packing up and moving out.
A workman comes out to see if he is lost and invites him in out of the rain while the man calls the nursing home. The old man looks at the old black and white circus photos on the wall and recalls out loud which circuses they are from. This grabs the worker's attention and he mentions the Benzini Brothers Circus tragedy from years ago.
Waltz was a decent August, the ring master and circus owner. I pictured someone larger and darker, maybe more Italian looking, when I was reading the book but August's charm and charisma as a business man, and brutality and harshness as a monster, really made him a different type of character that readers will both appreciate and despise. We really see him on the verge of snapping and just how quickly it can happen.
Director:  Francis Lawrence
Year of Release: 2011

Character to watch: Christoph Waltz as August.
Journal your answers to the following questions after you watch the movie.
How does this particular character's journey compare with yours?
Did the character develop certain characteristics during the movie that you have or that you would like to have? If so, what are those characteristics?
What obstacles did this character face? What was his or her biggest challenge?
What would you have done differently if you had been in the same position as the character?
Is this character the type of person you would be friends with? Why or why not?