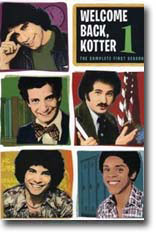 Travel back to a time when sitcoms were recorded live on tape before a studio audience and dialogue was dominated by nonsensical catch phrases, like "Up your nose with a rubber hose!" and "Off my case, potato face!" The year was 1975. Saturday Night Fever had yet to make John Travolta a star, and stand-up comedian-turned-creator Gabe Kaplan had yet to become a late-night poker mainstay. Welcome to four years at Brooklyn's Buchanan High School.
Along with What's Happening, Welcome Back, Kotter was what the cool kids were watching–just as their kids would turn to Freaks and Geeks in the years to come. Unlike the teens of Happy Days, Buchanan's remedial students aren't polite preppies, but slang-slinging hooligans. Gabe Kotter (Kaplan) serves as home-room teacher to a "pack of howling baboons" led by Vinnie Barbarino (Travolta), Arnold Horshack (Ron Palillo), Freddie "Boom-Boom" Washington (Lawrence Hilton-Jacobs), and self-described Puerto Rican Jew Juan Epstein (Robert Hegyes). Their adversary: Vice Principal Woodman (John Sylvester White), who lives to put a kibosh on their high jinks–just as he did when Kotter was a Sweathog in the 1960s.
Other regulars include Kotter's wife, Julie (Marcia Strassman), and Rosalie "Hotzy" Totzy (Debra Lee Scott). At the time, Welcome Back, Kotter was more than just a show. It was a cultural phenomenon, spawning lunch boxes, schoolyard taunts, and the like.
In retrospect, the jokes are cornier than ever, but the anything-goes spirit–crazy costumes and musical numbers–is hard to resist. At least that's true of the first three seasons. By the fourth, Travolta and Kaplan became scarce, and Kotter ran out of steam. Rest assured, though, that John Sebastian's clap-happy, chart-topping theme remains as catchy as ever.
Welcome Back Kotter was a cross between the Blackboard Jungle mixed with the Marx Brothers and Burns & Allen. The jokes were recycled Marx Brother material, but Gabe Kaplan (who created this show with Alan Sacks, based this on his stand up act) and crew made this stuff work.

Character to watch: John Travolta as Vinnie Barbarino.
Journal your answers to the following questions after you watch the series.
How does this particular character's journey compare with yours?
Did the character develop certain characteristics during the movie that you have or that you would like to have? If so, what are those characteristics?
What obstacles did this character face? What was his or her biggest challenge?
What would you have done differently if you had been in the same position as the character?
Is this character the type of person you would be friends with? Why or why not?