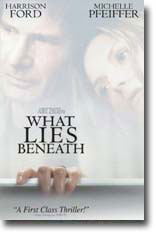 In a time in which good horror/suspense movies are few and far between, Robert Zemeckis brings us a wonderfully and surprisingly taut and well-balanced thriller filmed in the grand tradition of the great Alfred Hitchcock.Finally, a horror movie that doesn't rely on fake blood and cheesy special effects to wow the crowd, or attempt to scare the feeble minded. The movie is centered around a couple, recently moved, who has discovered a supernatural presence in their new dwelling.
The wife, Claire (Michelle Pfeiffer) believes it to be the ghost of the neighbor she suspects has been murdered. The husband, Norman (Harrison Ford) of course, thinks she is crazy. The movie twists and turns around this basic central plot, leading to an suspenseful ending.
The greatness of the movie comes not from the plot, but from the style in which the film was created. Some of the devices are a bit overused (a door opens mysteriously about three times too many), but not too much as to distract the viewer.
There are some great scenes that, although clichéd, there's a wonderful scene that borrows heavily from Rear Window, work beautifully and really instill a sense of apprehension in the viewer. Also, Zemeckis utilizes silence to build suspense where a lesser director might use the old disonant-music-crescendos-into-a-big-loud-scare tactic that we see all too often in horror movies.
Somewhere along the way, the line between horror movies and slasher films has blurred. It seems now that if you want to scare people, all you need is some fake blood and a knife. This movie proves that something can still be scary without dumbing it down.
Director:  Robert Zemeckis
Year of Release: 2000

Character to watch: Michelle Pfeiffer as Claire Spencer.
Journal your answers to the following questions after you watch the movie.
How does this particular character's journey compare with yours?
Did the character develop certain characteristics during the movie that you have or that you would like to have? If so, what are those characteristics?
What obstacles did this character face? What was his or her biggest challenge?
What would you have done differently if you had been in the same position as the character?
Is this character the type of person you would be friends with? Why or why not?