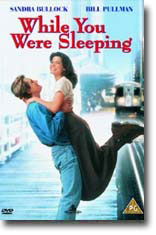 Lucy's life consists of constant loneliness that is until she saves Peter's life. Now she is a part of his family, and with a strong heart and fate on her side, others begin to realize what a terrific person she is, especially Jack, Peter's brother. An extraordinarily true-to-life sequence of events begin to take place as Lucy and Jack become closer and learn more about each other and themselves than one would ever expect from such coincidental, yet believable events.
With a heavy dose of schmaltz and sentiment, this romantic comedy has a gentle way of seducing you with its charms. While You Were Sleeping was the first starring role for Sandra Bullock after her blockbuster success in Speed. In a role that nicely emphasizes her easygoing appeal, Bullock is the reason the movie works at all.
She plays Lucy Eleanor Moderatz, a Chicago Transit tollbooth clerk who's hopelessly smitten with a daily commuter, Peter Callaghan (Peter Gallagher). She saves the object of her affection from certain death after he's mugged and falls onto the train tracks.
While Peter is in a coma, she lets his family believe that she is his fiancée, and surprisingly finds herself drawn to his brother (Bill Pullman), for whom the attraction is definitely mutual. How Lucy gets out of this amorous predicament is what makes this pleasant movie less predictable than its familiar ingredients would initially indicate. It's feel-good fluff, with characters and performances that keep you smiling through the drippy plot mechanics.
Bullock has never been more appealing as a funny, klutzy girl who never makes it out of Chicago. (Of course, Sandra Bullock playing a woman who is frumpy is stretching credibility a bit.) And if any woman can keep from melting when Bill Pullman focuses that sweet, intense gaze, I've yet to meet her.
The vulnerability of the main characters gets you pulling for them right from the start, and the secondary characters do a wonderful job of convincing you that they are real with their own histories.
Director: Jon Turteltaub
Year of Release: 1995

Character to watch: Sandra Bullock as Lucy.
Journal your answers to the following questions after you watch the movie.
How does this particular character's journey compare with yours?
Did the character develop certain characteristics during the movie that you have or that you would like to have? If so, what are those characteristics?
What obstacles did this character face? What was his or her biggest challenge?
What would you have done differently if you had been in the same position as the character?
Is this character the type of person you would be friends with? Why or why not?