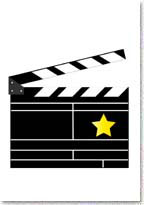 1. I Love You, Man –

Peter Klaven (Paul Rudd), a real estate agent, just got engaged to longtime girlfriend Zooey Rice (Rashida Jones). Zooey is ecstatic about the engagement and calls her friends Denise (Jaime Pressley) and Hailey (Sarah Burns) to tell them about it, but Peter does not seem to have any close friends to share the good news with. While visiting his parents, it's revealed that Peter is apparently more adept at getting along with women, and has a history of allowing his male friends to fall by the wayside when he is involved with a woman.
Director: John Hamburg
Character to watch: Paul Rudd as Peter Klaven.
2. DRAG ME TO HELL –

Christine Brown (Alison Lohman) has a loving boyfriend (Justin Long) and a great job at a Los Angeles bank. But her heavenly life becomes hellish when, in an effort to impress her boss, she denies an old woman's request for an extension on her home loan. In retaliation, the crone places a curse on Christine, threatening her soul with eternal damnation. Christine seeks a psychic's help to break the curse, but the price to save her soul may be more than she can pay.
Director: Sam Raimi
Character to watch: Alison Lohman as Christine Brown.
3. THE HANGOVER –

Two days before his wedding, Doug (Justin Bartha) and three friends (Bradley Cooper, Ed Helms, Zach Galifianakis) drive to Las Vegas for a wild and memorable stag party. In fact, when the three groomsmen wake up the next morning, they can't remember a thing; nor can they find Doug. With little time to spare, the three hazy pals try to re-trace their steps and find Doug so they can get him back to Los Angeles in time to walk down the aisle.
Director: Todd Phillips
Character to watch: Zach Galifianakis as Alan Garner.
4. JULIE & JULIA –

Frustrated with a soul-killing job, New Yorker Julie Powell (Amy Adams) embarks on a daring project: she vows to prepare all 524 recipes in Julia Childs' landmark cookbook, "Mastering the Art of French Cooking." Intertwined with Julie's story is the true tale of how Julia Child (Meryl Streep) herself conquered French cuisine with passion, fearlessness, and plenty of butter.
Director: Nora Ephron
Character to watch: Meryl Streep as Julia Child.
5. AN EDUCATION –

Despite her sheltered upbringing, Jenny (Carey Mulligan) is a teen with a bright future; she's smart, pretty, and has aspirations of attending Oxford University. When David (Peter Sarsgaard), a charming but much older suitor, motors into her life in a shiny automobile, Jenny gets a taste of adult life that she won't soon forget.
Director: Lone Scherfig
Character to watch: Carey Mulligan as Jenny.
6. THE BLIND SIDE –

Michael Oher (Quinton Aaron) knows little about family. Less about football. What the homeless teen knows are the streets and projects of Memphis. Well-to-do Leigh Anne Tuohy (Sandra Bullock) knows little about his world. Yet when she and Michael meet, he's found a home. And the Tuohys have found something just as life-changing: a beloved new son and brother. This real-life story of family and of Michael's growth into a blue-chip football star will have you cheering with its mix of gridiron action and heartwarming emotion. Share the remarkable journey of the college All-American and first-round NFL draft pick who was a winner before he ever stepped onto the playing field.
Director: John Lee Hancock
Character to watch:  Sandra Bullock as Leigh Anne Toughy.
7. PRECIOUS –

Pregnant by her own father for the second time, 16-year-old Claireece "Precious" Jones (Gabourey Sidibe) can neither read nor write and suffers constant abuse at the hands of her vicious mother (Mo'Nique). Precious instinctively sees a chance to turn her life around when she is offered the opportunity to transfer to an alternative school. Under the patient, firm guidance of her new teacher, Ms. Rain (Paula Patton), Precious begins the journey from oppression to self-determination.
Director: Lee Daniels
Character to watch: Gabourey Sidibe as Precious.
8. A SINGLE MAN –

George (Colin Firth) is a college professor who recently lost his lover, Jim, in a car accident. Terribly grief-stricken, George plans to commit suicide. As he goes about his daily routine and puts his affairs in order, his encounters with colleagues, students and an old friend (Julianne Moore) lead him to make a final decision as to whether life is worth living without Jim. The story is a romantic tale of love interrupted, the isolation that is an inherent part of the hum.
Director: Tom Ford
Character to watch: Colin Firth as George.
9. AVATAR –

On the lush alien world of Pandora live the Na'vi, beings who appear primitive but are highly evolved. Because the planet's environment is poisonous, human/Na'vi hybrids, called Avatars, must link to human minds to allow for free movement on Pandora. Jake Sully (Sam Worthington), a paralyzed former Marine, becomes mobile again through one such Avatar and falls in love with a Na'vi woman (Zoe Saldana). As a bond with her grows, he is drawn into a battle for the survival of her world.
Director: James Cameron
Character to watch: Sam Worthington as Jake Sully.
10. CRAZY HEART –

With too many years of hazy days and boozy nights,former country-music legend Bad Blake (Jeff Bridges) is reduced to playing dives and bowling alleys. In town for his latest gig, Blake meets Jean Craddock (Maggie Gyllenhaal), a sympathetic reporter who has come to do a story on him. He unexpectedly warms to her and a romance begins, then the singer finds himself at a crossroads that may threaten his last shot at happiness.
Director: Scott Cooper
Character to watch: Jeff Bridges as Bad Blake.