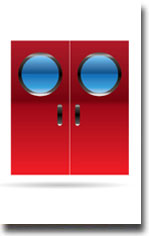 1. Gone Girl –

In Carthage, Mo., former New York-based writer Nick Dunne (Ben Affleck) and his glamorous wife Amy (Rosamund Pike) present a portrait of a blissful marriage to the public. However, when Amy goes missing on the couple's fifth wedding anniversary, Nick becomes the prime suspect in her disappearance. The resulting police pressure and media frenzy cause the Dunnes' image of a happy union to crumble, leading to tantalizing questions about who Nick and Amy truly are.
Director: David Fincher
Character to watch: Rosamund Pike as Amy Dunne.
2. St. Vincent –

Maggie (Melissa McCarthy), a struggling single woman, moves to Brooklyn with her 12-year-old son, Oliver (Jaeden Lieberher). Having to work very long hours, she has no choice but to leave Oliver in the care of Vincent (Bill Murray), a bawdy misanthrope next door. Vincent takes Oliver along on his trips to the race track, strip club and dive bar, and an unlikely friendship is born. The man is a mentor to the boy in his hedonistic way, and Oliver sees the good in Vincent that no one else can.
Director: Theodore Melfi
Character to watch: Bill Murray as Vincent.
3. The Equalizer –

Robert McCall (Denzel Washington), a man of mysterious origin who believes he has put the past behind him, dedicates himself to creating a quiet new life. However, when he meets Teri (Chloë Grace Moretz), a teenager who has been manhandled by violent Russian mobsters, he simply cannot walk away. With his set of formidable skills, McCall comes out of self-imposed retirement and emerges as an avenging angel, ready to take down anyone who brutalizes the helpless.
Director: Antoine Fuqua
Character to watch: Denzel Washington as Robert McCall.
4. A Walk Among the Tombstones –

Matt Scudder (Liam Neeson), formerly part of the NYPD, now works as an unlicensed private detective. His latest client is a drug trafficker (Dan Stevens) whose wife was kidnapped and brutally murdered, and as Scudder delves deeper, he finds that the crime's sequence is the modus operandi of the perpetrators. Before they can strike again and destroy other lives, Scudder races through the back streets of New York to catch the killers, blurring the lines between lawful and criminal as he goes.
Director: Scott Frank
Character to watch: Liam Neeson as Matt Scudder.
5. The Skeleton Twins –

Following many years of estrangement, twins Milo (Bill Hader) and Maggie (Kristen Wiig) have an unexpected reunion after a set of near-tragedies. The situation forces them to confront how their lives became so broken. For Maggie, it means examining why she's so unhappy in a marriage to a loving husband. For Milo, it means meeting with his first love to see if their romance can reignite. Eventually, they learn that living truthfully and accepting each other is the only way to move forward.
Director: Craig Johnson
Character to watch: Kristen Wiig as Maggie.
6. The Fault in Our Stars –

Hazel Grace Lancaster (Shailene Woodley), a 16-year-old cancer patient, meets and falls in love with Gus Waters (Ansel Elgort), a similarly afflicted teen from her cancer support group. Hazel feels that Gus really understands her. They both share the same acerbic wit and a love of books, especially Grace's touchstone, "An Imperial Affliction" by Peter Van Houten. When Gus scores an invitation to meet the reclusive author, he and Hazel embark on the adventure of their brief lives.
Director: Josh Boone
Character to watch: Shailene Woodley as Hazel.
7. Boyhood –
The joys and pitfalls of growing up are seen through the eyes of a child named Mason (Ellar Coltrane), his parents (Patricia Arquette, Ethan Hawke) and his sister (Lorelei Linklater). Vignettes, filmed with the same cast over the course of 12 years, capture family meals, road trips, birthday parties, graduations and other important milestones. Songs from Coldplay, Arcade Fire and other artists capture the time period. Directed by Richard Linklater.
Director: Richard Linklater
Character to watch: Ellar Coltrane as Mason.
8. Dawn of the Planet of the Apes –

Ten years after simian flu Director: Matt Reeveswiped out much of the world's homosapiens, genetically enhanced chimpanzee Caesar (Andy Serkis) and his ever-growing band of followers have established a thriving colony just outside San Francisco in Muir Woods. Meanwhile, a small band of human survivors emerges, which forces Caesar — as leader — to grapple with the dual challenge of protecting his people and re-establishing a relationship with the remaining human population — the latter being Caesar's secret wish.
Director: Matt Reeves
Character to watch: Andy Serkis as Caesar.
9. Nightcrawler –
Los Angeles denizen Louis Bloom (Jake Gyllenhaal) survives by scavenging and petty theft. He stumbles into a new career as a cameraman and — armed with a camcorder and police scanner — begins nocturnal forays across the city in search of shocking and grisly crimes. When he catches the eye of a shopworn news director (Rene Russo) who welcomes the chance to raise her station's ratings, Louis goes to increasingly greater lengths to catch the "money shot."
Director: Dan Gilroy
Character to watch: Jake Gyllenhaal as Louis Bloom.
10. Jersey Boys
In the 1960s, four scrappy young men from New Jersey — Frankie Valli (John Lloyd Young), Bob Gaudio (Erich Bergen), Nick Massi (Michael Lomenda) and Tommy DeVito (Vincent Piazza) — have the magic sound that propels them from singing under streetlights to singing in spotlights. With songs like "Sherry," "Big Girls Don't Cry" and "Walk Like a Man," the quartet finds itself at the top of the charts. However, personal and professional problems threaten to tear the group apart.
Director: Clint Eastwood
Character to watch: Vincent Piazza as Tommy DeVito.