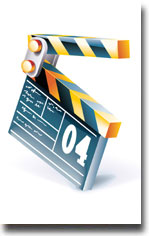 1. The Revenant –

A frontiersman on a fur trading expedition in the 1820's fights for survival after being mauled by a bear and left for dead by members of his own hunting team. This film transports you to the 1820's American wilderness where the mountain men carved out a living trapping for furs. This movie has captured that time and place like no other I've ever seen including the 70's classic Jeremiah Johnson. Blizzards, avalanches, and storms are common place, and men have little time for anything but survival in this cold, brutal hell they have found themselves. The beauty of the untouched wilderness is breathtaking to behold and this film captures it like no other.
Director: Alejandro González Iñárritu
Character to watch: Leonardo DiCaprio as Hugh Glass.
2. Spotlight –

In 2001, editor Marty Baron of The Boston Globe assigns a team of journalists to investigate allegations against John Geoghan, an unfrocked priest accused of molesting more than 80 boys. Led by editor Walter "Robby" Robinson (Michael Keaton), reporters Michael Rezendes (Mark Ruffalo), Matt Carroll and Sacha Pfeiffer interview victims and try to unseal sensitive documents. The reporters make it their mission to provide proof of a cover-up of sexual abuse within the Roman Catholic Church.
Director:  Tom McCarthy
Character to watch: Mark Ruffalo as Michael Rezendes.
3. The Imitation Game –

The film opens in 1941 as England and Germany have declared war against each other. The Brits are getting their butts beat as the rest of Europe has already fallen to Hitler and the Nazis. If England can somehow decode the infamous German Enigma machine, perhaps the war can be turned. Alan Turing (Cumberbatch), a brilliant mathematician, is assigned to help with the decoding process. Socially inept, he has a hard time working with his small cadre of code breakers and they are having no success. Kiera Knightly plays, brilliant in her own right, Joan Clarke, who helps Turing, outside the all-boys group.
Director: Morten Tyldum
Character to watch: Benedict Cumberbatch as Alan Turin.
4. The Theory of Everything –

In the 1960s, Cambridge University student and future physicist Stephen Hawking (Eddie Redmayne) falls in love with fellow collegian Jane Wilde (Felicity Jones). At 21, Hawking learns that he has motor neuron disease. Despite this — and with Jane at his side — he begins an ambitious study of time, of which he has very little left, according to his doctor. He and Jane defy terrible odds and break new ground in the fields of medicine and science, achieving more than either could hope to imagine. One of the things that catches your attention is how Hawking always manages to crack a smile and never showed a lick of hate. It made me wonder about how we can look to the inside and see what we can do to better ourselves or others that Hawking had done.
Director: James March
Character to watch: Eddie Redmayne as Stephen Hawking.
5. Bridge of Spies –

During the Cold War, the Soviet Union captures U.S. pilot Francis Gary Powers after shooting down his U-2 spy plane. Sentenced to 10 years in prison, Powers' only hope is New York lawyer James Donovan (Tom Hanks), recruited by a CIA operative to negotiate his release. Donovan boards a plane to Berlin, hoping to win the young man's freedom through a prisoner exchange. If all goes well, the Russians would get Rudolf Abel (Mark Rylance), the convicted spy who Donovan defended in court.
Director: Steven Spielberg
Character to watch: Tom Hanks as James Donovan.
6. My Old Lady –

Kevin Kline, Maggie Smith and Kristin Scott Thomas star in this witty and heartfelt drama about surprising inheritances and unexpected connections. When Mathias Gold (Kline) arrives at the sumptuous Parisian apartment he inherited from his father, he's surprised that the property comes with two stubborn live-in tenants who are not required to leave according to an ancient French real estate law. Unable to sell the place, Mathias moves in with the feisty Englishwoman, Mathilde (Maggie Smith), and her daughter, Chloé (Kristin Scott Thomas). But as Mathias and Chloé draw increasingly closer, Mathilde unveils a complex labyrinth of secrets that unites the trio in unexpected ways.
Director: Israel Horovitz
Character to watch: Kevin Kline as Mathias Gold.
7. Still Alice –

Alice Howland (Julianne Moore), happily married with three grown children, is a renowned linguistics professor who starts to forget words. When she receives a diagnosis of Early-Onset Alzheimer's disease, Alice and her family find their bonds thoroughly tested. Her struggle to stay connected to who she once was is frightening, heartbreaking, and inspiring. This is a very sad but realistic portrait of what is like to go through an early onset Alzheimer's diagnosis from the perspective of the previously dynamic and successful person going through it. We experience it with Alice mostly through her eyes . Julianne Moore's delivery of such difficult subject matter is raw and believable and truly her finest work to date.
Directors: Richard Glatzer, Wash Westmoreland
Character to watch: Julianne Moore as Alice Howland.
8. Predestination –

This smart science fiction thriller chronicles the life of a Temporal Agent (Ethan Harke) sent on an intricate series of time-travel journeys designed to ensure the continuation of his law enforcement career for all eternity. Now, on his final assignment, the Agent must pursue the one criminal, The Fizzle Bomber, that has eluded him throughout time. A mind-bending science fiction masterpiece about time travel and understanding, Predestination has more plot twists than a mystery novel. The movie is set in a scene where a bartender (Hawke), who's actually something a bit more, starts a conversation with a surly customer (Sarah Snook).
Director: Michael Spierig
Character to watch: Ethan Hawke as the Barkeep.
9. Ex-Machina –

A young coder named Caleb (Domhnall Gleeson) at the world's largest internet company, wins a competition to spend a week at a private retreat belonging to Nathan (Oscar Isaac), the reclusive CEO of the company. Upon arrival he learns that he must participate in a bizarre experiment which involves interacting with the world's first true artificial intelligence, which comes in the form of Ava (Alicia Vikander), a beautiful female robot. The machine at the center of this story is Ava, a name that is deliberately a play on Adam and Eve. Ava is a sleekly designed cybernetic creation, a body of circuits inside a crystalline shell with a beautiful woman's face.
Director: Alex Garland
Character to watch: Domhnall Gleeson as Caleb.
10. McFarland USA –

A struggling coach and teacher (Kevin Costner) who has been had to move around for different incidents in his career finally comes to one of the poorest cities in America – McFarland, California. There he discovers buried potential among several high school boys and slowly turns them into championship runners and brings them closer than even he could ever imagine. Costner is simply outstanding in this. Yes, he is still playing Kevin Costner in every movie he is in. However, this acting job is so approachable and likable that it reminds us of how approachable and likable Costner himself can be.
Director: Niko Caro
Character to watch: Kevin Costner as Jim White.