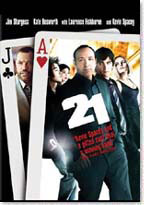 Massachusetts Institute of Technology (MIT) senior math major Ben Campbell (Jim Sturgess) is accepted into Harvard Medical School but cannot afford the $300,000 fee. Despite a 44 MCAT score and top grades, Ben faces a fierce competition for the prestigious Robinson Scholarship that would pay entirely for the medical school.
The director tells him that the scholarship would go to the student who would dazzle him. At MIT, professor Micky Rosa (Kevin Spacey) challenges Campbell with the Monty Hall problem, which he solves successfully.
After looking at Campbell's score on his latest non-linear equations paper, on which he got 97%, Rosa invites Campbell to join his blackjack team, which consists of fellow students Choi (Aaron Yoo), Fisher (Jacob Pitts), Jill (Kate Bosworth), and Kianna (Liza Lapira). Despite being told by Rosa that he had already gotten into the Harvard Medical School, Campbell refuses to join the team on the premise he had been promoted at his job. Next day, Jill visits Campbell at his job and attempts to coax him into joining the team.
The system involves card counting and the team is split into two groups. Spotters play the minimum bet and keep track of the count. They send secret signals to the big players, who place large bets whenever the count at the table is favorable. Campbell reluctantly joins the team, telling Rosa he is only doing so until he can pay for medical school.
21 is the fictionalized account of college kids who really did beat one of the most sophisticated anti-crime systems in Las Vegas. The plot points toward the end are predictable, but the fact that these kids were able to get away with this for so long sustains the interest for the majority of the movie. Kevin Spacey is good as always, radiating intensity. Sturgess and Bosworth get the job done, while not providing memorable performances.
Director: Robert Luketic
Year of Release: 2008

Character to watch: Kevin Spacey as Micky Rosa.
Journal your answers to the following questions after you watch the movie.
How does this particular character's journey compare with yours?
Did the character develop certain characteristics during the movie that you have or that you would like to have? If so, what are those characteristics?
What obstacles did this character face? What was his or her biggest challenge?
What would you have done differently if you had been in the same position as the character?
Is this character the type of person you would be friends with? Why or why not?