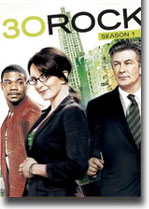 Elizabeth "Liz" Lemon (Tina Fey) is the executive show runner for a late night sketch comedy show called "The Girlie Show", that stars her close friend and major drama queen Jenna Maroney (Jane Krakowski). When GE hires a new executive vice president for NBC named Jack Donaghy (Alec Baldwin), he decides to take Liz under his wing and turn around TGS, which for years has been unable to find the proper audience it deserves.
So to do so, Jack brings on unhinged, wildly unpredictable star Tracy Jordan (Tracy Morgan) to turn the series into a ratings hit. But Liz soon finds out that controlling her odd ball writing staff, the NBC page program, keeping Tracy on a short leash, and getting him to get along with Jenna proves to be one disaster after another. Will TGS ever see true success? And will Liz find the right partner to get married and start a family? Watch and find out.
Briskly paced and perfectly cast, 30 Rock rewards viewers with brilliant dialogue (when Liz asks Jack why he is dressed in a tuxedo with no formal event to attend, he coolly responds, "It's after six; what am I, a farmer?") and fresh characters you haven't seen on a hundred other sitcoms. Jack McBrayer is the series' scene-stealing breakout star as NBC page Kenneth, a sweet and innocent "rube."
The ensemble's seemingly spontaneous byplay invites repeat viewings to catch jokes and sly bits of business you might have missed (in "Tracy Does Conan," listen for the initial confusion over how to pronounce Tracy's less-than-ethical physician, Dr. Spaceman, or, in "The Hair and the Head," watch for the Katie Couric slur on the wall of what is purported to be NBC anchor Brian Williams' trashed office).
In a show full of gems (including "Black Tie," featuring Paul Reubens as severely inbred royalty), there are only a couple of comparative clunkers, but the pleasure of this ensemble's company more than compensates.

Character to watch: Tina Fey as Liz Lemon.
Journal your answers to the following questions after you watch the series.
How does this particular character's journey compare with yours?
Did the character develop certain characteristics during the movie that you have or that you would like to have? If so, what are those characteristics?
What obstacles did this character face? What was his or her biggest challenge?
What would you have done differently if you had been in the same position as the character?
Is this character the type of person you would be friends with? Why or why not?