3D and Cinema Therapy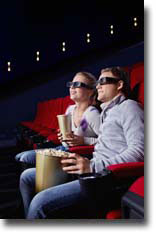 Perhaps there is no other technology that detracts from the Cinema Therapy value of a movie more than 3D. It reached a head in 2009, when James Cameron released the visually stunning Avatar. It was a special effects masterpiece that Cameron shot with special 3D equipment and it earned over $3 billion at the box office. It was pretty to look at and the movie became the highest grossing film of all time. Shocking because of how terrible the actual movie is, but even more disgraceful because it began the trend of 3D.
Before Avatar, 3D movies came out occasionally and mostly as gimmicks aimed at kids getting their parents to take them to the movies. When Hollywood saw how much money Avatar made, every studio wanted to get in on 3D. What resulted was an aftermath of dark, hideous looking movies like Resident Evil and The Last Airbender, among others.
Some of these films were so bad that it was hard to grasp that the addition of 3D made them even worse. Sadly, even decent movies suffered from being 3D. Tim Burton's Alice and Wonderland was good enough, but the vibrant colors of Wonderland were dimmed by the 3D effects.
As far as Cinema Therapy goes, I think it's hard to focus on the therapeutic value of a film when you cannot see it properly. Many people complain of headaches they get from constantly trying to focus on the images in the movie. This is compounded as scenes keep changing and brain is attempting to accommodate and process what the eyes are seeing.
The renowned film critic Roger Ebert summed up the issue of 3D in film when he said, "The notion that we are asked to pay a premium to witness an inferior and inherently brain-confusing image is outrageous. The case is closed." The problem with 3D is that it should be something that adds to the quality of the viewer's experience, but instead, makes it significantly less enjoyable.