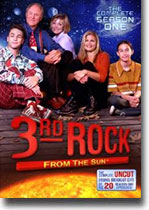 When a group of four extraterrestrial aliens assumed human form in order to study humanity, the results were hilarious on NBC's 1996-2001 sitcom "3rd Rock from the Sun". The unrelated travelling extraterrestrial foursome takes up residence in the fictional Midwestern college town of Rutherford, Ohio.
The "High Commander" (John Lithgow) takes on the identity of a father and college physics professor named Dick Solomon. The "Security Officer" (Kristen Johnston) takes on the female identity of Dick's sister Sally. The "Information Officer" (Joseph Gordon-Levitt) takes on the identify of Dick's son Tommy.
The fourth alien (French Stewart) takes on the identity of Dick's brother Harry. Having never experienced life as human beings, the alien foursome quickly find that dealing with strange human feelings and senses can be very challenging. This was especially true for Sally, who, as a woman, experiences a greater array of emotions.
Then, there's the human woman that inadvertently captures Dick's heart: a college professor by the name of Dr. Mary Margaret Albright (Jane Curtain). Dick falls madly in love with Mary, who for a long time has little interest in Dick's advances and thinks that Dick is a bit odd. Dick's human secretary Nina Campbell (Simbi Khali), who also thinks he's very odd, is hilarious.
Other humans that the Solomon's frequently interact with are their eccentric landlady Mrs. Dubcek (Elmarie Wendel) and Police Officer Donald 'Don' Orville (Wayne Knight). Don becomes quite infatuated with Sally. Other humans that Dick interacts with frequently are the students in his physics classes. As regularly appearing guest actors, these include Leon (Ian Lithgow, John Lithgow's son), Bug Pollone (David DeLuise, the son of Dom DeLuise), Aubrey Pitman (Chris Hogan), Caryn (Danielle Nicolet) and Judith Draper (Ileen Getz).

Character to watch: John Lithgow as Dr. Dick Solomon
Journal your answers to the following questions after you watch the series.
How does this particular character's journey compare with yours?
Did the character develop certain characteristics during the movie that you have or that you would like to have? If so, what are those characteristics?
What obstacles did this character face? What was his or her biggest challenge?
What would you have done differently if you had been in the same position as the character?
Is this character the type of person you would be friends with? Why or why not?