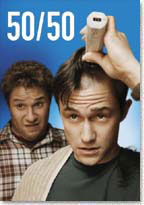 Adam Lerner (Joseph Gordon-Levitt) is a 27-year-old public radio journalist with an artist girlfriend Rachael (Bryce Dallas Howard), of whom his best friend and co-worker Kyle (Seth Rogen) disapproves. Adam learns he has schwannoma neurofibrosarcoma (a malignant tumor) in his spine and must undergo chemotherapy. He sees on the Internet that his chances of survival are fifty-fifty.
After Adam reveals his diagnosis, his overbearing mother, Diane (Anjelica Huston), who already cares for a husband suffering from Alzheimer's, wants to move in and care for him. Adam rejects this offer, as Rachael has promised to be the one to take care of him.
Rachael, however, is uncomfortable going into the hospital during Adam's chemo treatments. Later, Kyle sees Rachael kissing another man at an art gallery, and tells Adam that Rachael is cheating on him. Adam and Rachael break up.
Throughout Adam's struggle, Kyle attempts to keep Adam's spirits high, which include helping Adam shave his head prior to chemotherapy and suggesting that Adam use his illness as a way to pick up women. Meanwhile, Adam skeptically begins going to a young and inexperienced therapist, Katherine McKay (Anna Kendrick), at the hospital.
Although their relationship and sessions have a rocky start, he slowly begins to open up to her about his disease and how it is affecting him. The two develop a rapport both in and outside of their sessions, as the lines between doctor-patient and friends begins to blur. She helps Adam understand his mother's situation as well. During chemo treatments, Adam also befriends Alan (Philip Baker Hall) and Mitch (Matt Frewer), two older cancer patients who are also undergoing chemotherapy.
Director: Jonathan Levine
Year of Release: 2011

Character to watch: Joseph Gordon-Levitt as Adam.
Journal your answers to the following questions after you watch the movie.
How does this particular character's journey compare with yours?
Did the character develop certain characteristics during the movie that you have or that you would like to have? If so, what are those characteristics?
What obstacles did this character face? What was his or her biggest challenge?
What would you have done differently if you had been in the same position as the character?
Is this character the type of person you would be friends with? Why or why not?