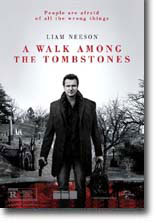 Matt Scudder (Liam Neeson) is a former cop now a private eye. He is asked by a drug dealer to find the men who kidnapped his wife. It seems like they killed her even after he paid them. Scudder refuses. But the man later goes to see him and tells him how his wife was killed. Scudder takes the job.
He does some research and thinks the men he is looking for have done this more than once. And that everyone they grabbed is connected to a drug dealer. He was about to give up when they grab another girl and Scudder tries make sure she's returned aliveThis is not a full-blown action flick so don't expect car chases and Liam popping off the thugs every ten minutes. It takes it's time and let's the viewer ponder for a slower paced but gritty ride. It does have some violent images and acts that will stick in your head.
Liam plays the investigator with cool swagger as he navigates the seedy areas of NY to find two maniac serial killers. If you enjoy the thriller genre or true crime stories you should enjoy Tombstones. It's similar in tone with Silence Of The Lambs, Prisoners, and Seven. The on location shots of decaying cities in New York really added to the feel of the story.
Director: Scott Frank
Year of Release: 2014

Character to watch: Liam Neeson as Matt Scudder.
Journal your answers to the following questions after you watch the movie.
How does this particular character's journey compare with yours?
Did the character develop certain characteristics during the movie that you have or that you would like to have? If so, what are those characteristics?
What obstacles did this character face? What was his or her biggest challenge?
What would you have done differently if you had been in the same position as the character?
Is this character the type of person you would be friends with? Why or why not?