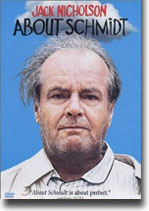 Warren Schmidt (Jack Nicholson) is about to taste a not so sweet slice of life. When he retired, he and his wife Helen had big plans, but an unexpected twist changed everything.
Now, all of Schmidt's attention is focused his daughter's upcoming wedding to a loser waterbed salesman. From meeting hippie parents to sponsoring a Tanzanian foster child, Schmidt embarks on a search for answers and discovers that life is full of trick questions.
About Schmidt can provoke polarized reactions. The movie is based on Louis Begley's novel to suit a comedic agenda, and the main character Schmidt is a 66-year-old, newly retired Omaha insurance actuary, weary from decades of drudgery and passionless marriage.
When his wife suddenly dies, he attempts to reclaim his life in a king-sized Winnebago, desperate to convince his daughter (Hope Davis) not to marry the Denver dimwit (Dermot Mulroney) whose mother (Kathy Bates) has her own baggage of peculiar peccadilloes.
Nicholson perfectly (and often hilariously) nails the seething anger beneath his character's façade of resignation, but Payne and Taylor convey cold-hearted contempt for these Midwestern malcontents.
Director:  Alexander Payne
Year of Release: 2002

Character to watch: Jack Nicholson as Warren Schmidt.
Journal your answers to the following questions after you watch the movie.
How does this particular character's journey compare with yours?
Did the character develop certain characteristics during the movie that you have or that you would like to have? If so, what are those characteristics?
What obstacles did this character face? What was his or her biggest challenge?
What would you have done differently if you had been in the same position as the character?
Is this character the type of person you would be friends with? Why or why not?