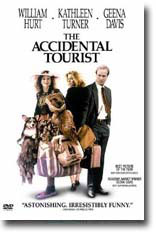 Lawrence Kasdan adapted Anne Tyler's novel into this comedy in which William Hurt plays a depressed travel writer struggling to come to terms with his son's death. He buys a dog for companionship, then hires an eccentric dog trainer (Geena Davis) to teach it to behave.
She, in turn, teaches him to reconnect to life. But as he is beginning to admit his feelings for her to himself, he is blindsided by the return of his estranged wife (Kathleen Turner), who attempts to rekindle their marriage.
The film has some of the most interesting dialogue ever heard in a film about relationships. The story begins when Macon Leary (Hurt), comes home to find his wife, Sarah (Turner), wants a divorce. This marriage has endured almost unbearable strain after the death of their only son, and Macon's coping strategy is to strive to keep things as they are. When Macon's Welsh corgi becomes bad-tempered and starts to bite, Macon can't stand the thought of parting with the dog that was his son's childhood companion.
Macon is forced to rely on others when he breaks his leg and moves in with his sister and brothers, and the movie really picks up momentum when he meets a sparkling divorcee dog trainer named Muriel Pritchett (Davis). Muriel has her eyes on Macon Leary from the first moment she sees him, when she begins a long campaign to win this world-weary man over and bring joy back into his life.
When Sarah finds out that Macon is seeing another woman, she has a change of heart about finalizing the divorce, and seeks a reconciliation. Macon's choice then becomes one of maintaining the status quo or navigating his way through uncertain yet exciting territories with someone new.
Director: Lawrence Kasdan
Year of Release: 1988

Character to watch: Geena Davis as Muriel Pritchett.
Journal your answers to the following questions after you watch the movie.
How does this particular character's journey compare with yours?
Did the character develop certain characteristics during the movie that you have or that you would like to have? If so, what are those characteristics?
What obstacles did this character face? What was his or her biggest challenge?
What would you have done differently if you had been in the same position as the character?
Is this character the type of person you would be friends with? Why or why not?