Authors:  Beverly West, Nancy Peske
Year of Release: 2002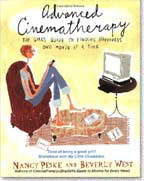 On the verge of yet another major life change? Recovering from a rough day at the office? Or trying to figure out what makes him tick? Take heart–no matter what your issue, the help you need is no farther away than your VCR. From the dynamic duo who brought you the bestselling Cinema Therapy comes Advanced Cinema Therapy, a video guide that prescribes the perfect movie to cure whatever ails you.
Whether you're in the midst of a midlife crisis and need to join the parade and march to your own drummer (Hello, Dolly!), or vacillating between gullible and hyperparanoid and need to listen to your instincts (Sudden Fear), in Advanced Cinema Therapy you'll find movies that will help you laugh at your troubles or confront your issues, and inspire you to grow.
In Advanced Cinematherapy: The Girl's Guide to Finding Happiness One Movie at a Time. there are dozens of new reviews of classic and contemporary movies that confront women's issues and nurture women's souls. Feed your wildest fantasies, claim your power, and overcome your losses, all by taking charge of your own remote control.
The movies listed in Advanced Cinematherapy range from the 30s to the 90s (although the focus is more on older films) and have every type of genre possible: screwball antics, old-fashioned drama, modern day black comedies, movies that turned legeands into legeands, and well…just plain great movies in general.