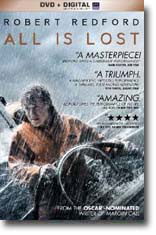 Deep into a solo voyage in the Indian Ocean, an unnamed man (Robert Redford) wakes to find his 39-foot yacht taking on water after a collision with a shipping container left floating on the high seas.
With his navigation equipment and radio disabled, the man sails unknowingly into the path of a violent storm. Despite his success in patching the breached hull, his mariner's intuition and a strength that belies his age, the man barely survives the tempest.
Using only a sextant and nautical maps to chart his progress, he is forced to rely on ocean currents to carry him into a shipping lane in hopes of hailing a passing vessel. But with the sun unrelenting, sharks circling and his meager supplies dwindling, the ever-resourceful sailor soon finds himself staring his mortality in the face.
The fact that Redford does not talk (with one exception which will have you empathising hugely with the character – 'when it rains, it pours') turns the film into an intense character study and makes his plight even more compelling as you start to care deeply about his fate, so much so that by the end of the film, you are desperately hoping for a contrived ending. Does Redford's character survive? You will have to see the film to find out but what I can tell you is that tears will be rolling down your cheek at the closing credits.
Director: J.C. Chandor
Year of Release: 2013

Character to watch: Robert Redford as a man at sea.
Journal your answers to the following questions after you watch the movie.
How does this particular character's journey compare with yours?
Did the character develop certain characteristics during the movie that you have or that you would like to have? If so, what are those characteristics?
What obstacles did this character face? What was his or her biggest challenge?
What would you have done differently if you had been in the same position as the character?
Is this character the type of person you would be friends with? Why or why not?