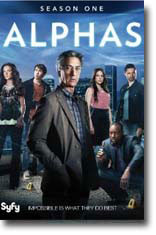 Brought together to form one extraordinary team of "Alphas" – people whose unique brain anomalies imbue them with superhuman mental and physical abilities – five seemingly ordinary citizens must take the law into their own hands while working within the government to investigate a new brand of baffling crime. An action-packed thriller starring an electrifying cast led by David Strathairn and guest starring sci-fi icons Lindsay Wagner, Summer Glau, and Brent Spiner.
Strong casting helps to set apart the science fiction series Alphas, about a crime-solving group of highly gifted individuals, from a slew of familiar pop culture antecedents, which in turn buoys the chances for a follow-up to this first-season set. The show's core premise feels as if it was produced directly from a development session–it's X-Men and Heroes meets the CSI franchise–but the presence of Strathairn as the Alphas' neurologist mentor helps to anchor the series in a plausibly dramatic foundation.
Ryan Cartwright, as a high-functioning autistic youth who can produce and process electronic communication with his mind, and Laura Mennell, whose psychic powers can bend others to her will, also lend considerable credence to the material, and it's to the credit of series cocreator Zak Penn that the effects of wielding such abilities, which are often debilitating in a variety of ways, are given equal screen time. Such elements help to retain interest in the show when episodes drift towards formulaic superhero/crime tropes, and undoubtedly helped revive network interest in a second season.

Character to watch: David Strathairn as Lee Rosen.
Journal your answers to the following questions after you watch the series.
How does this particular character's journey compare with yours?
Did the character develop certain characteristics during the movie that you have or that you would like to have? If so, what are those characteristics?
What obstacles did this character face? What was his or her biggest challenge?
What would you have done differently if you had been in the same position as the character?
Is this character the type of person you would be friends with? Why or why not?