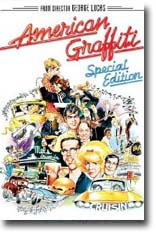 Here's how critic Roger Ebert described the unique and lasting value of George Lucas's 1973 box-office hit, American Graffiti: "[It's] not only a great movie but a brilliant work of historical fiction; no sociological treatise could duplicate the movie's success in remembering exactly how it was to be alive at that cultural instant."
The time to which Ebert and the film refers is the summer of 1962, and American Graffiti captures the look, feel, and sound of that era by chronicling one memorable night in the lives of several young Californians on the cusp of adulthood.
(In essence, Lucas was making a semiautobiographical tribute to his own days as a hot-rod cruiser, and the film's phenomenal success paved the way for Star Wars.) The action is propelled by the music of Wolfman Jack's rock & roll radio show–a soundtrack of pop hits that would become as popular as the film itself.
As Lucas develops several character subplots, American Graffiti becomes a flawless time capsule of meticulously re-created memory, as authentic as a documentary and vividly realized through innovative use of cinematography and sound.
The once-in-a-lifetime ensemble cast members inhabit their roles so fully that they don't seem like actors at all, comprising a who's who of performers–some of whom went on to stellar careers–including Ron Howard, Richard Dreyfuss, Harrison Ford, Cindy Williams, Mackenzie Phillips, Charles Martin Smith, Candy Clark, and Paul Le Mat.
A true American classic, the film ranks No. 77 on the American Film Institute's list of all-time greatest American movies. Befitting that reputation, the collector's edition DVD includes a full-length commentary by Lucas, a behind-the-scenes featurette about the film's production, a photo gallery, and extensive production notes.
Director: George Lucas
Year of Release: 1973

Character to watch: Richard Dreyfuss as Kurt.
Journal your answers to the following questions after you watch the movie.
How does this particular character's journey compare with yours?
Did the character develop certain characteristics during the movie that you have or that you would like to have? If so, what are those characteristics?
What obstacles did this character face? What was his or her biggest challenge?
What would you have done differently if you had been in the same position as the character?
Is this character the type of person you would be friends with? Why or why not?