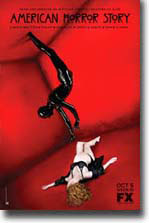 After it's first season on televion, American Horror Story is already the highest-rated first season show in FX's history. Horror fans cannot get enough of it. As far as 2011 went, FX's supremely creepy horror/drama American Horror Story was hands down the best new show of the fall.
This latest creation from "Glee" and "Nip/Tuck" masterminds Ryan Murphy and Brad Falchuk has received a decidedly mixed reaction from critics: The New York Times chides the show for its "hollow theatricality" while allowing that it has "the potential to be a lot of fun"; Hitfix's Alan Sepinwall simply calls it "an overwrought mess." And some viewers are bound to be turned off by the show's copious amounts of sex and violence.
I liked the way that the show took the well-worn premise of a family moving into a haunted house and transformed it into a mind-bending, pulse-pounding, gasp-inducing, utterly compelling piece of television.
TV veterans Dylan McDermott and Connie Britton star as estranged husband and wife Ben and Vivien Harmon, who bring inner demons of their own into the house (her miscarriage, his infidelity). The supporting cast is uniformly strong, too, including Taissa Farmiga as Violet, the Harmons' sullen teen daughter; Evan Peters as Tate, a troubled teen with violent tendencies; and Oscar winner Jessica Lange as nosy neighbor Constance, who coats her insults with a sweet Southern charm.
Brace yourself for an addictive thrill ride! American Horror Story is TV's most original new drama, a deeply stylish psychosexual haunt devised to keep you on the edge of your seat. The Harmon's fresh start in a new home deviously twists to reveal discoveries of love, sex and murderous revenge.

Character to watch: Taissa Farmiga as Violet Harmon.
Journal your answers to the following questions after you watch the series.
How does this particular character's journey compare with yours?
Did the character develop certain characteristics during the movie that you have or that you would like to have? If so, what are those characteristics?
What obstacles did this character face? What was his or her biggest challenge?
What would you have done differently if you had been in the same position as the character?
Is this character the type of person you would be friends with? Why or why not?