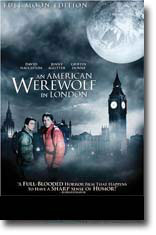 Re-discover one of the most gripping horror films of all-time with the cult classic An American Werewolf in London. Blending the macabre with a wicked sense of humor, director John Landis delivered a contemporary take on the classic werewolf tale in this story of two American tourists who, while traveling in London, find their lives changed forever when a vicious wolf attacks them during a full moon.
Featuring groundbreaking, Academy Award-winning make-up by Rick Baker (The Wolfman), this digitally remastered Full Moon Edition also includes the new feature-length documentary Beware the Moon.
Remember back in the early 1980s when special-effects makeup artists were tripping over themselves to create the next big effect? The Howling boasted a fantastic werewolf transformation scene courtesy of makeup wizard Rob Bottin.
Then along came Bottin's mentor, Rick Baker, with his own spectacular effects in this popular horror comedy directed by John Landis. An American Werewolf in London is more of a makeup showcase than a truly satisfying movie, but the film is effectively moody when David Naughton discovers that a wolf attack has turned him into a bloodthirsty lycanthrope. Jenny Agutter plays his love interest (watch out, he bites!), and who can forget Griffin Dunne as Naughton's best friend, an undead corpse who progressively rots away as the plot unfolds? All things considered, it's easy to see why An American Werewolf in London became a modern horror favorite.
Actors Griffin Dunne and David Naughton, neither of whom had been in a movie before, create a wonderful 'ordinary guy' feeling to their characters of two young American boys backpacking through Europe. In rural England, they have a nasty encounter with a legendary monster, and Naughton faces the consequences of being bitten when he returns to London and takes up living with a pretty nurse (Jenny Agutter).
The transformation scene is justly famous and a milestone in visual effects. Make-up wizard Rick Baker lets the viewers watch a real-time twisting of a human body into a wolf shape: limbs stretch, snouts pop, hair grows, the body contorts; it's amazing to watch.  Even computer graphics can't achieve an effect as startling as this one.
Director:  John Landis
Year of Release: 1981

Character to watch: Griffin Dunne as Jack Goodman.
Journal your answers to the following questions after you watch the movie.
How does this particular character's journey compare with yours?
Did the character develop certain characteristics during the movie that you have or that you would like to have? If so, what are those characteristics?
What obstacles did this character face? What was his or her biggest challenge?
What would you have done differently if you had been in the same position as the character?
Is this character the type of person you would be friends with? Why or why not?