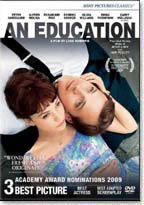 In 1961 London, Jenny Mellor (Carey Mulligan) is a 16-year-old schoolgirl on track to enter Oxford University when she meets a charming Jewish conman, David Goldman (Peter Sarsgaard), who pursues her romantically. He takes her to concerts, clubs, and fine restaurants, and easily charms her parents into approving of the relationship. Jenny recognizes that David is a con man who makes money through a variety of shady practices.
She is initially shocked but silences her misgivings in the face of David's persuasive charm. Soon, David takes Jenny to Paris as a birthday gift. Jenny's parents invite Graham (Matthew Beard), a boy Jenny knows from Youth Orchestra, to Jenny's birthday party, but David arrives and Graham goes home.
When David proposes marriage, Jenny accepts and leaves school. She then discovers David is already married. When she reveals her discovery to David, he drops out of sight. Jenny despairs, feeling she has thrown her life away, but with the help of her favorite teacher, resumes her studies and is accepted at Oxford the following year.
From the start it's pretty clear what David wants from her, and it's quite clear Jenny is at least somewhat aware of this. She seems to be willing to go along with that in return for the gifts, the activities and a chance to be around people who are more "her sort".
David is a charming fellow, even able to get Jenny's parents to accept him and allow her to do things like accompany him to Oxford or Paris. Her father (played by the always reliable Alfred Molina), appears to be completely snowed. Her mother less so, though she's still willing to let her daughter go off with this man in his 30's.
David's charms are somewhat undone when Jenny finds out the various ways he makes a living, which include, but are not limited to, stealing valuable art from old women. Surprisingly, she's willing to go along with this, but eventually finds out something even more dark and unpleasant about David.
Director: Lone Scherfig
Year of Release: 2009

Character to watch: Carey Mulligan as Jenny.
Journal your answers to the following questions after you watch the movie.
How does this particular character's journey compare with yours?
Did the character develop certain characteristics during the movie that you have or that you would like to have? If so, what are those characteristics?
What obstacles did this character face? What was his or her biggest challenge?
What would you have done differently if you had been in the same position as the character?
Is this character the type of person you would be friends with? Why or why not?