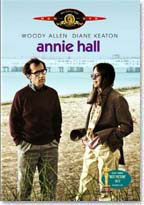 The comedian Alvy Singer (Woody Allen) is trying to understand why his relationship with Annie Hall (Diane Keaton) ended a year ago. Growing up in New York, he vexed his mother with impossible questions about the emptiness of existence, but he was precocious about his innocent sexual curiosity.
Annie and Alvy get into an argument while waiting in a theater queue to watch The Sorrow and the Pity, during which another man loudly misinterprets the work of Marshall McLuhan. McLuhan himself steps in to correct the mistake. That night, Annie shows no interest in having sex with Alvy. Instead, they discuss his first wife, Allison Portchnik (Carol Kane), with whom there was little sexual pleasure.
His second marriage was to a New York intellectual, but their sexual relationship was not enjoyable for him. With Annie, it is different. The two of them have uproarious fun making a meal of boiled lobster together. Alvy enjoys mocking the unusual men with whom Annie had been involved.
First of all it's a story, and a very funny story at that, about a New York Jewish comedian, played by Woody Allen and his WASP girlfriend, played by Diane Keaton. It pokes fun at many social mores that we take for granted and I found myself laughing throughout.
There's the New Yorker who never learns to drive, the mid-westerner who orders a pastrami sandwich on white bread with mayonnaise (which seems almost grotesque to a New Yorker like me), the pretentious movie critic, the neuroses of modern romances, and the differences between the New York and Los Angeles way of life.
The film runs along at such a fast pace that there is almost no time at all between funny moments. And, to make it even better, there are some wonderful film techniques. For example, while Diane Keaton and Woody Allen are talking about photography, there are subtitles on the screen about the physical relationship that they are really thinking about.
Director: Woody Allen
Year of Release: 1977

Character to watch: Diane Keaton as Annie Hall.
Journal your answers to the following questions after you watch the movie.
How does this particular character's journey compare with yours?
Did the character develop certain characteristics during the movie that you have or that you would like to have? If so, what are those characteristics?
What obstacles did this character face? What was his or her biggest challenge?
What would you have done differently if you had been in the same position as the character?
Is this character the type of person you would be friends with? Why or why not?