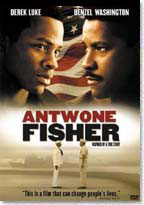 Antwone Fisher (Derek Luke) is a temperamental young man with a violent past who is serving in the U.S. Navy. His father was killed before he was born and his teenage mother, Eva Mae Fisher (Viola Davis), was arrested and put in jail where she gave birth to him. Antwone was placed in an orphanage and, at the age of two, Antwone was placed in a foster home run by a devout religious couple, Mr. and Mrs. Tate (Ellis Williams, Novella Nelson).
There, Antwone faced emotional and physical abuse by Mrs. Tate for until he finally left the home at age fourteen. After living out on the streets for the next few years, he decided to join the U.S. Navy. However the rough life he had as child caused him to have a violent temper, creating problems for him.
After getting into a fight with a fellow sailor, Antwone is sentenced to be demoted, fined, and restricted to the ship for 45 days. His commanding officer also orders him to go to psychiatric treatment. This is where Antwone meets Dr. Jerome Davenport (Denzel Washington).
Davenport attempts to get him to open up, but Antwone is resistant. During his sessions, Antwone reveals that he has feelings for a fellow Navy sailor Cheryl (Joy Bryant). With Antwone still getting into altercations, Davenport tries to explore his feelings for Cheryl in order to focus Antwone's feelings into something positive. With Davenport's encouragement, Antwone finally goes on a date with Cheryl and establishes a relationship with her.
Washington, portraying Navy psychiatrist Jerome Davenport, is superb. Davenport doesn't belittle, belabor, or browbeat his young patient–he gains Antwone's confidence through soft-spoken empathy and compassion. As the relationship between the two men evolves, Davenport becomes a surrogate father to Antwone. Yet Davenport also has problems in his personal life; his friendship with Antwone gives him the additional insight and strength he needs to confront them.
The chemistry between Washington and Luke is extraordinary; the scenes featuring just the two of them are spellbinding. This movie is also Washington's directorial debut; if Washington can furnish such exceptional storytelling right out of the gate, one can only hope he'll decide to go behind the camera again and again.
Director: Denzel Washington
Year of Release: 2002

Character to watch: Denzel Washington as Jerome Davenport.
Journal your answers to the following questions after you watch the movie.
How does this particular character's journey compare with yours?
Did the character develop certain characteristics during the movie that you have or that you would like to have? If so, what are those characteristics?
What obstacles did this character face? What was his or her biggest challenge?
What would you have done differently if you had been in the same position as the character?
Is this character the type of person you would be friends with? Why or why not?