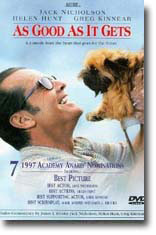 For all of its conventional plotting about an obsessive-compulsive curmudgeon, Melvin Udall (Jack Nicholson) who improves his personality at the urging of his gay neighbor Simon (Greg Kinnear) and a waitress Carol (Helen Hunt) who inspires his best behavior, this is one of the sharpest Hollywood comedies.
Nicholson could play his role in his sleep, but his mischievous persona is precisely necessary to give heart to his seemingly heartless character, who is of all things a successful romance novelist.
As a single mom with a chronically asthmatic young son, Hunt gives the film its conscience and integrity (along with plenty of wry humor), and she also won an Oscar for her wonderful performance. Greg Kinnear had to settle for an Oscar nomination, but his work was also singled out in the film's near-unanimous chorus of critical praise. It's questionable whether a romance between Hunt and the much older Nicholson is entirely believable, but this movie's smart enough–and charmingly funny enough–to make it seem endearingly possible.
When his neighbor Simon is hospitalized, Melvin is forced to babysit Simon's dog. And that unexpected act of kindness, along with waitress Carol Connelly, helps put Melvin back in the human race. Melvin is a recluse and resistant to any changes in his life until he is forced to interact with down-on-his-luck gay Simon and Simon's perky little pet pooch, Verdell. Melvin also becomes reluctantly involved with Carol, who serves him breakfast every day at a local cafe. Other than Carol, none of the other cafe's employees will deal with the impossible Melvin.
When Carol abruptly quits her job, Melvin tracks her down and offers her financial incentives to return to her post. Melvin increasingly finds himself drawn into Carol's personal life, and he eventually falls for the plucky single mom.
Director:  James L. Brooks
Year of Release: 1997

Character to watch: Jack Nicholson as Melvin Udall.
Journal your answers to the following questions after you watch the movie.
How does this particular character's journey compare with yours?
Did the character develop certain characteristics during the movie that you have or that you would like to have? If so, what are those characteristics?
What obstacles did this character face? What was his or her biggest challenge?
What would you have done differently if you had been in the same position as the character?
Is this character the type of person you would be friends with? Why or why not?