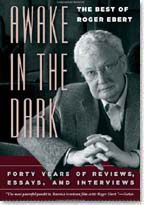 Roger Ebert has been writing film reviews for the Chicago Sun-Times for over forty years. In fact, no critic alive has reviewed more movies than he has. Yet his essential writings have never been collected in a single volume—until now.
With Awake in the Dark, both fans and film buffs can finally bask in the best of Ebert's work. The reviews, interviews, and essays collected here present a picture of his numerous contributions to the cinema and cinephilia. From The Godfather to GoodFellas, from Cries and Whispers to Crash, the reviews in Awake in the Dark span some of the most exceptional periods in film history.
In addition, the extraordinary interviews gathered in Awake in the Dark capture Ebert engaging not only some of the most influential directors of our time—Martin Scorsese, Steven Spielberg, Woody Allen, Robert Altman, Werner Herzog, and Ingmar Bergman—but also some of the silver screen's most respected personalities, including actors as diverse as Robert Mitchum, James Stewart, Warren Beatty, and Meryl Streep.
America's most celebrated film critic, Ebert is a writer whose exceptional intelligence and bursts of insight have shaped the way we think about the movies. Awake in the Dark will be a treasure trove not just for fans of this seminal critic but for anyone desiring a fascinating and compulsively readable chronicle of film since the late 1960s.
About the Author: Roger Ebert is the Pulitzer Prize-winning film critic from the Chicago Sun-Times. His reviews are syndicated to more than 200 newspapers in the United States and Canada. The American Film Institute and the School of the Art Institute of Chicago have awarded him honorary degrees, and the Online Film Critics Society named his Web site, RogerEbert.com, the best online movie-review site.
Author: Roger Ebert
Year of Release: 2006