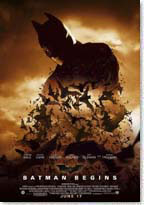 As a child, Bruce Wayne (Gus Lewis) falls into a well, where he is attacked by a swarm of bats; he develops a phobia of them as a result. Soon afterward, he witnesses his parents' murder by mugger Joe Chill (Richard Brake), leaving Bruce to be raised by the family's butler, Alfred Pennyworth (Michael Caine).
14 years later, Chill is granted parole in exchange for testifying against Gotham City crime boss Carmine Falcone (Tom Wilkinson). Bruce (Christian Bale) goes to the trial, intending to kill Chill, but one of Falcone's assassins does so first. Bruce's childhood friend, assistant district attorney Rachel Dawes (Katie Holmes), chides him for attempting to take the law into his own hands.
Bruce later confronts Falcone, who tells him that real power comes from being feared. Bruce decides to travel and learn about the criminal underworld, before becoming a criminal himself. In a Bhutanese prison, Henri Ducard (Liam Neeson) offers to train him in the arts of stealth and fear as a member of the League of Shadows, led by Ra's al Ghul (Ken Watanabe).
After completing his training, Bruce learns the League's true intention is to destroy Gotham, which it views as corrupt beyond saving. Bruce refuses to join them and burns down the League's temple.
Ra's is killed by falling debris, while Bruce saves an unconscious Ducard, leaving him with the local villagers. Soon afterward, Bruce returns to Gotham. Publicly posing as a spoiled playboy, he takes an interest in his family's company, Wayne Enterprises, which is now run by the unscrupulous William Earle (Rutger Hauer). Bruce meets Wayne Enterprises's top scientist Lucius Fox (Morgan Freeman), who shows him various prototype technologies, including the Tumbler (a heavily armored car) and a protective bodysuit.
Most fans already know the story of how wealthy Bruce Wayne (Christian Bale) loses his parents when they are slain during an attempted robbery, but the movie also tells how he chose the bat as his symbol, as well as the steps needed to become the avenger of the night that he turns into. Disillusioned and frustrated by Gotham City's corrupt judicial system, the young Wayne goes abroad to study the criminal mind.
Director: Christopher Nolan
Year of Release: 2005

Character to watch:  Gary Oldman as Jim Gordon.
Journal your answers to the following questions after you watch the movie.
How does this particular character's journey compare with yours?
Did the character develop certain characteristics during the movie that you have or that you would like to have? If so, what are those characteristics?
What obstacles did this character face? What was his or her biggest challenge?
What would you have done differently if you had been in the same position as the character?
Is this character the type of person you would be friends with? Why or why not?