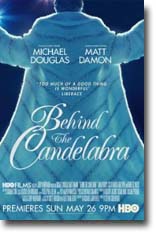 Filmmaker Steven Soderbergh recreated the glittering private world of Liberace (Michael Douglas) the flamboyant phenomenally successful entertainer whose extravagant costumes and elaborate stage shows made him the most bankable entertainer of his time. The story focuses on Liberace's tempestuous relationship with Scott Thorson (Matt Damon) during a time when Liberace was at the peak of his popularity but remained closeted as a homosexual.
Featuring a pair of electrifying performances by Douglas and Damon Behind the Candelabra captures the essence of Liberace's appeal while reminding viewers how different attitudes were at the time.
This is an intriguing and bizarre story of Liberace told through the eyes of his many-year companion Scott. The A-team performances of Debbie Reynolds as Liberace's mother, and Rob Lowe as his doctor are flawless; Lowe's work is stunning as a pill-popping California plastic surgeon. Dan Ackroyd as Liberace's agent is excellent as well. The two main performances are absolutely riveting – Oscar performance worthy, for sure, though with the HBO distribution the film will be eligible for an Emmy, not an Oscar.
It is astounding how Douglas unwaveringly nails Liberace's voice and mannerism and the film is seamlessly interspersed with footage of the real Liberace as a young man; Damon once again shows his incredible range as an actor playing the polar opposite of the tough guy, bad boy, heart throb role. The makeup in this movie is simply amazing. Micheal Douglas is transformed into the spitting image of Liberace and various characters age, gain and lose mass, and go through other appearance-changing life issues.
Scott is a naive and talent animal trainer and aspiring vet who meets Liberace through a friend and starts to treat Liberace's poodle. As a child, Scott had been through many families in the foster system and as a young man is seeking a acceptance, love, and a father figure. He quickly becomes drawn into Liberace's flamboyant public life and bizarre private life; after the elderly poodle dies he even takes on his nickname. The film is at once unbelievable and at the same time you know, somehow, that all of it actually happened.
Director: Steven Soderbergh
Year of Release: 2013

Character to watch: Matt Damon as Scott Thorson.
Journal your answers to the following questions after you watch the movie.
How does this particular character's journey compare with yours?
Did the character develop certain characteristics during the movie that you have or that you would like to have? If so, what are those characteristics?
What obstacles did this character face? What was his or her biggest challenge?
What would you have done differently if you had been in the same position as the character?
Is this character the type of person you would be friends with? Why or why not?