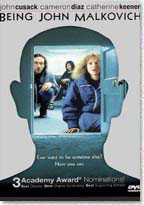 Craig Schwartz (John Cusack) is an unemployed puppeteer in a forlorn marriage with his pet-obsessed wife Lotte (Cameron Diaz). Gaining a file clerk job through Dr. Lester (Orson Bean) at LesterCorp, in the strange Floor 7½ low-ceiling offices of the Mertin Flemmer Building in New York City, he develops an attraction to his co-worker Maxine (Catherine Keener), who does not return his affections.
Craig discovers a small door behind a filing cabinet which he enters, finding himself in the mind of actor John Malkovich; able to observe and sense whatever Malkovich does for fifteen minutes before he is ejected and dropped into a ditch near the New Jersey Turnpike. Craig reveals the portal to Maxine and they decide to let others use it at $200 a turn.
Craig tells Lotte, who becomes obsessed with the experience, allowing her to live out her transgender desires. Lotte becomes attracted to Maxine and they begin a sexual relationship by having Lotte inside Malkovich while Maxine has sexual intercourse with Malkovich. Craig, forsaken by both women, locks up Lotte in a cage. Unbeknownst to Maxine, he then enters into Malkovich's mind and has a sexual encounter with Maxine.
Drawing on his puppeteering, Craig discovers that he is able to control Malkovich's actions while in his head, causing the actor to become paranoid. After consulting with his friend Charlie Sheen, Malkovich trails Maxine to the Mertin Flemmer building, where he finds and tries the portal and is placed in a world where everyone looks like him and can only say "Malkovich"; he is ejected and meets Craig by the turnpike, and angrily demands that the portal be closed, to which Craig refuses.
Director: Spike Jonze
Year of Release: 1999

Character to watch: John Cusack as Craig Schwartz.
Journal your answers to the following questions after you watch the movie.
How does this particular character's journey compare with yours?
Did the character develop certain characteristics during the movie that you have or that you would like to have? If so, what are those characteristics?
What obstacles did this character face? What was his or her biggest challenge?
What would you have done differently if you had been in the same position as the character?
Is this character the type of person you would be friends with? Why or why not?