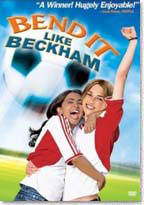 Jesminder "Jess" Bhamra (Parminder Nagra) is the 18-year-old daughter of Punjabi Sikhs from Hounslow, west London. Juliette "Jules" Paxton (Keira Knightley) is the daughter of an English couple. Jess is infatuated with football, but because she is female (and Indian), her parents do not allow her to play. However, she sometimes plays in the park with various boys and her good friend Tony, a closeted homosexual.
When Jules discovers Jess' skills, she invites Jess to try out for her local team, the Hounslow Harriers, coached by Joe (Jonathan Rhys Meyers), an Irishman. Although initially skeptical, Joe is convinced by watching Jess play, and puts her on the team. Jess lies to Joe about her parents being on board with the idea. She becomes best friends with Jules and Marlena "Mel" Goines (Shaznay Lewis).
Jess is strongly romantically attracted to Joe, a gora. When the team travels to Hamburg, Jess and Joe's romantic relationship is budding; at the end of the night the two are about to romantically kiss when Jules (who also has a crush on Joe) interrupts them, souring Jess and Jules' friendship. When Jess arrives at Jules' house to try to fix the friendship, Mrs. Paxton is misled and thinks that the pair are involved in a lesbian relationship.
Jess' parents learn that she has been playing on the team and become more strict, ensuring she does not attend matches. Meanwhile, the elder Bhamras are distracted by the elaborate preparations for the upcoming wedding of their older daughter, Pinky (Archie Panjabi).
Thanks to Jess and Jules' skill, the Harriers reach the finals of the league tournament. An American recruiting scout will be attending. Unfortunately, the final is held on the day of Pinky's wedding. Joe pleads with Mr. Bhamra to allow Jess to play, but he refuses. He reveals that he does not want Jess to suffer as he did when he was kicked out of a cricket club because of his race.
Joe accepts that Jess will not play and the final begins without her. Halfway through Pinky's wedding reception, Tony convinces Mr. Bhamra (Anupam Kher) to allow Jess to play. Tony drives Jess to the final, where the Harriers are 1–0 down, with half an hour remaining.
Director:  Gurinder Chadha
Year of Release: 2003

Character to watch: Keira Knightley as Juliette "Jules" Paxton.
Journal your answers to the following questions after you watch the movie.
How does this particular character's journey compare with yours?
Did the character develop certain characteristics during the movie that you have or that you would like to have? If so, what are those characteristics?
What obstacles did this character face? What was his or her biggest challenge?
What would you have done differently if you had been in the same position as the character?
Is this character the type of person you would be friends with? Why or why not?