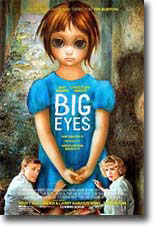 Big Eyes focuses on the artistic coupling of Margaret (Amy Adams) and Walter Keane (Christoph Waltz). Walter Keane became a worldwide celebrity and talk show fixture in the 1950s after he pioneered the mass production of prints of big-eyed kids, and used his marketing savvy to sell them cheaply in hardware stores and gas stations across the country. Unfortunately, he claimed to be the artist.
That role was played by Margaret, his shy wife. She generated the paintings from their basement and Walter's contribution was adding his signature to the bottom. The ruse broke up their marriage and led to a divorce and a dramatic courtroom battle to prove authorship of the paintings.
Burton paints a vividly complex picture of gender bias and repressed creativity, with a whole lot of betrayal thrown in for good measure. After leaving her first husband, no small act back in those days, Margaret met Walter Keane; a painter who resembles a street mime when we first see him.
It's the perfect look for a guy who always seems to be performing, selling some aspect of his personality. He notices her talent for painting right away; the two become a pair, and soon the Keane empire is born as her paintings of sad, big-eyed children become a global sensation. There's just one big problem: Margaret didn't get any credit for her work for over a decade.
Regardless of their personal differences, compelling each to later discredit the other, Walter, was indeed the one to initially conceive and create "big eye" art, long before he met Margaret. First and foremost, he was an ideas man. From his crude beginnings, Margaret's blossoming technical skills contributed to an evolved quality that celebrated his vision, and together they manifested a result which commercially exceeded a level of success greater than what either artist was able to achieve on their own, before or since.
Director: Tim Burton
Year of Release: 2014

Character to watch: Amy Adams as Margaret Keane.
Journal your answers to the following questions after you watch the movie.
How does this particular character's journey compare with yours?
Did the character develop certain characteristics during the movie that you have or that you would like to have? If so, what are those characteristics?
What obstacles did this character face? What was his or her biggest challenge?
What would you have done differently if you had been in the same position as the character?
Is this character the type of person you would be friends with? Why or why not?