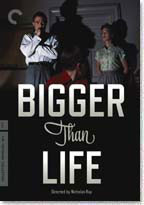 Schoolteacher and family man Ed Avery (James Mason), who has been suffering bouts of severe pain and even blackouts, is hospitalized with what's diagnosed as polyarteritis nodosa, a rare inflammation of the arteries. Told by doctors that he probably has only months to live, Ed agrees to an experimental treatment: doses of the hormone cortisone.
Ed makes a remarkable recovery. He returns home to his wife, Lou (Barbara Rush), and their son, Richie (Christopher Olsen). He must keep taking cortisone tablets regularly to prevent a recurrence of his illness. But the 'miracle' cure turns into a nightmare when Ed begins to misuse the tablets, causing him to experience wild mood swings and, ultimately, a psychotic episode which threatens the safety of his family.
Talk about a film ahead of its time, Nicholas Ray's 1956 drama Bigger than Life tanked upon release in the US most likely because of its dark, brooding and unflinching observations on suburban life. People back then didn't want to be told about the monster next door, and to a lesser extent people today still don't want this, but Ray's film is so perfect in every respect that one can't look away from the screen for a moment.
Ray, like Fuller, unfortunately was, more or less, wholly ignored in the US during his life but was immensely popular with the Cahiers kids and I'm glad to see that in the past decade or so his films, besides the popular Rebel Without a Cause, are getting some serious reevaluations.
Director: Nicholas Ray
Year of Release: 1956

Character to watch: James Mason as Ed Avery.
Journal your answers to the following questions after you watch the movie.
How does this particular character's journey compare with yours?
Did the character develop certain characteristics during the movie that you have or that you would like to have? If so, what are those characteristics?
What obstacles did this character face? What was his or her biggest challenge?
What would you have done differently if you had been in the same position as the character?
Is this character the type of person you would be friends with? Why or why not?