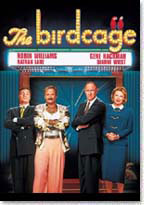 A gay cabaret owner Armand Goldman (Robin Williams) and Albert Goldman (Nathan Lane), his drag queen companion agree to put up a false straight front so that their son (Val Goldman) can introduce them to his fiancée's (Calista Flockhart) right-wing moralistic parents. Her parents, Kevin and Louise, (Gene Hackman, Diane Wiest) are ultra conservative and her father is a senator.
Fearing their reaction if they learn the truth about Val's parents, Barbara tells her parents that Armand is a cultural attaché to Greece, that Albert is a housewife, and she changes the family's last name from Goldman to Coleman to hide their Jewish background. They all have dinner together. However, the Keeleys have been followed by paparazzi and are trapped when news crews arrive.
The Goldmans and Keeleys consider the best plan of action. Val and Barbara explain why they deceived Kevin and Louise and are forgiven, but the Keeleys fear being tangled up in a scandal if spotted in a gay nightclub. Albert choreographs the Keeleys' escape by dressing them in drag and having them leave the club as the night's show ends. The plan works and none of the media crews recognize them.
One of the funniest movies that I have seen. Williams is not the funny one here, it is Lane's character, Albert, that gets the most laughs. This movie has made me a life-long Nathan Lane fan. Both Williams (whose character is Armand Goldman) and Lane play gay men, with William's role being the dominant or male character. Since I am not gay, it is hard for me to define gender definitions of gay couples, but in this movie, there can be no missing the fact that Lane is the female side of the couple.
When William's son comes to tell Dad of his impending marriage to a young woman (played admirably by Calista Flockhart) and to plead with Dad to pretend to be straight when he meets the girl's parents, as her father is a very straightlaced Senator in D.C.(played by Gene Hackman),trouble starts, in the form of hurt feelings and feelings of rejection to the other member of the relationship, namely, Albert.
Director: Mike Nichols
Year of Release: 1996

Character to watch: Nathan Lane as Albert Goldman.
Journal your answers to the following questions after you watch the movie.
How does this particular character's journey compare with yours?
Did the character develop certain characteristics during the movie that you have or that you would like to have? If so, what are those characteristics?
What obstacles did this character face? What was his or her biggest challenge?
What would you have done differently if you had been in the same position as the character?
Is this character the type of person you would be friends with? Why or why not?