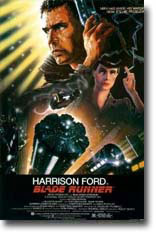 In a cyberpunk vision of the future, man has developed the technology to create replicants, human clones used to serve in the colonies outside Earth but with fixed lifespans. In Los Angeles, 2019, Deckard (Harrison Ford) is a Blade Runner, a cop who specializes in terminating replicants. Originally in retirement, he is forced to re-enter the force when four replicants escape from an off-world colony to Earth.
Blade Runner first and foremost, is probably the greatest film ever made, from beginning to end and in all of its variations. A bold statement when the film doesn't even rank in the top 10 in the American Film Institute or on IMDb. Spots #97 and #104 respectively. But as these kind of lists are subjective and truly under the control of mere mortals and their own strange whims, and I take no offense that so many so-called aficionados have over-looked this film for so long.
Roger Ebert slammed Ridley Scott and the film during the first theatrical release by stating that `Scott cared more about the lush environment of the film than he did of the story', which as we all know – and even Ebert now, in hindsight, has stated that he was unkind and grossly unfair to both Scott and the film.
Director:  Ridley Scott
Year of Release: 1982

Character to watch: Harrison Ford as Deckard.
Journal your answers to the following questions after you watch the movie.
How does this particular character's journey compare with yours?
Did the character develop certain characteristics during the movie that you have or that you would like to have? If so, what are those characteristics?
What obstacles did this character face? What was his or her biggest challenge?
What would you have done differently if you had been in the same position as the character?
Is this character the type of person you would be friends with? Why or why not?