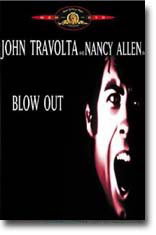 Brian De Palma's thriller is something of a homage to Michelangelo Antonioni's masterful Blowup, though there are hints of Francis Ford Coppola's paranoia-inducing Conversation sprinkled throughout. John Travolta plays a sound-effects man who witnesses what appears to be a tragic car accident killing a presidential candidate. The audio tape he happened to be recording at that moment (adding to his collection of natural sounds), however, suggests but doesn't prove that a murderous conspiracy is afoot.
Trying to tease a shred of evidence from murky doubt, Travolta's character turns to a hooker (Nancy Allen) for help and stumbles into a web of evil spun by a right-wing kook (John Lithgow). De Palma's fetishistic fascination with obscured truth in a universe ruled by chance makes Blow Out one of his most operatic films.
It's also perhaps one of his most revealing about the inherent decadence of creating verisimilitude for art. Sometimes knocked for its outrageous camera technique, Blow Out contains several exciting sequences that underscore De Palma's amped-up admiration for many of Hitchcock's best moves.
This stylish Brian DePalma thriller plays off the theme of the unsuspecting witness who discovers a crime and is thereby put in grave danger, but with a novel twist. Jack is a sound recordist who works on grade-B horror movies. Late one evening, he is recording sounds for use in his movies when he hears something unexpected through his sound equipment and records it.
Curiosity gets the better of him when the media become involved, and he begins to unravel the pieces of a nefarious conspiracy. As he struggles to survive against his shadowy enemies and expose the truth, he doesn't know whom he can trust.
Director:  Brian De Palma
Year of Release: 1981

Character to watch: John Travolta as Jack Terry.
Journal your answers to the following questions after you watch the movie.
How does this particular character's journey compare with yours?
Did the character develop certain characteristics during the movie that you have or that you would like to have? If so, what are those characteristics?
What obstacles did this character face? What was his or her biggest challenge?
What would you have done differently if you had been in the same position as the character?
Is this character the type of person you would be friends with? Why or why not?