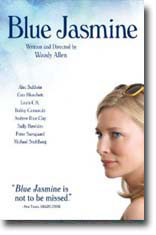 If you want to see this year's master class in screen acting, you need to watch Cate Blanchett's mesmerizing performance as Jasmine French, a delusional Park Avenue socialite wife in Woody Allen's 46th directorial effort, a sly, bicoastal update of Tennessee Williams' classic A Streetcar Named Desire.As the film opens, her impeccably dressed character has hit rock bottom after her financial wizard of a husband is arrested and her assets are liquidated.
In the throes of a nervous breakdown, she arrives in San Francisco and moves in with her kind-hearted sister Ginger who lives a modest, blue-collar life in a tiny apartment on the edge of the Mission – on South Van Ness near 14th Street to be exact – with her two hyperactive sons.
You can tell Jasmine is not only out of her element but quite judgmental about how her sister's life has turned out. The irony of Jasmine's patronizing attitude is that she is a habitual liar who is so angry about her destitute circumstances that she frequently talks to herself. The story follows the basic outline of "Streetcar" but takes some interesting turns, for instance, when she tries to better herself by taking computer classes while working as a receptionist at a dental office.
As Jasmine struggles with her haunting memories of a privileged past bearing dark realities she ignored, she tries to recover in her present. Unfortunately, it all proves a losing battle as Jasmine's narcissistic hangups and their consequences begin to overwhelm her. In doing so, her old pretensions and new deceits begin to foul up everyone's lives, especially her own.
Director: Woody Allen
Year of Release: 2013

Character to watch: Cate Blanchett as Jasmine French.
Journal your answers to the following questions after you watch the movie.
How does this particular character's journey compare with yours?
Did the character develop certain characteristics during the movie that you have or that you would like to have? If so, what are those characteristics?
What obstacles did this character face? What was his or her biggest challenge?
What would you have done differently if you had been in the same position as the character?
Is this character the type of person you would be friends with? Why or why not?