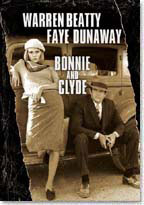 In the middle of the Great Depression, Clyde Barrow (Warren Beatty) and Bonnie Parker (Faye Dunaway) meet when Clyde tries to steal Bonnie's mother's car. Bonnie, who is bored by her job as a waitress, is intrigued with Clyde, and decides to take up with him and become his partner in crime. They pull off some holdups, but their amateur efforts, while exciting, are not very lucrative.
The duo's crime spree shifts into high gear once they hook up with a dim-witted gas station attendant, C.W. Moss (Michael J. Pollard), then with Clyde's older brother Buck (Gene Hackman) and his wife, Blanche (Estelle Parsons), a preacher's daughter.
The women dislike each other on first sight, and their feud only escalates from there: shrill Blanche has nothing but disdain for Bonnie, Clyde and C.W., while gun-moll Bonnie sees Blanche's flighty presence as a constant danger to the gang's well-being.
Bonnie and Clyde turn from pulling small-time heists to robbing banks. Their exploits also become more violent. When C.W. botches a bank robbery by parallel parking the getaway car, Clyde shoots the bank manager in the face after he jumps onto the slow-moving car's running board. The gang is pursued by law enforcement, including Texas Ranger Frank Hamer (Denver Pyle), who is captured and humiliated by the outlaws, then set free.
A raid later catches the outlaws off guard, mortally wounding Buck with a gruesome shot to his head and injuring Blanche. Bonnie, Clyde and C.W. barely escape with their lives. With Blanche sightless and in police custody, Hamer tricks her into revealing C.W.'s name, who was up until now still only an "unidentified suspect."
Director:  Arthur Penn
Year of Release: 1967

Character to watch: Faye Dunaway as Bonnie Parker.
Journal your answers to the following questions after you watch the movie.
How does this particular character's journey compare with yours?
Did the character develop certain characteristics during the movie that you have or that you would like to have? If so, what are those characteristics?
What obstacles did this character face? What was his or her biggest challenge?
What would you have done differently if you had been in the same position as the character?
Is this character the type of person you would be friends with? Why or why not?