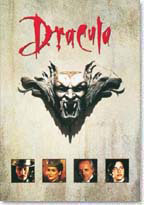 In 1462, Vlad Dracula (Gary Oldman) returns from a victory against the Turks to find his wife, Elisabeta (Winona Ryder), has committed suicide after receiving a false report of his death. Enraged that his wife is now damned for committing suicide, Dracula desecrates his chapel and renounces God, declaring that he will rise from the grave to avenge Elisabeta with all the powers of darkness. In a fit of rage, he stabs the cross with his sword and drinks the blood which is pouring out of the cross.
In 1897, solicitor Jonathan Harker (Keanu Reeves) takes the Transylvanian Count Dracula (Gary Oldman)as a client from his colleague R. M. Renfield (Tom Waits), who has gone insane. Jonathan travels to Transylvania to arrange Dracula's real estate acquisition in London, including Carfax Abbey.
Jonathan meets Dracula, who discovers a picture of Harker's fiancée, Mina, and believes that she is the reincarnation of Elisabeta (Winona Ryder). Dracula leaves Jonathan to be raped and fed upon by his brides and sails to England with boxes of his native soil, taking up residence at Carfax Abbey. His arrival is foretold by the ravings of Renfield, now an inmate in Dr. Jack Seward's (Richard E. Grant) neighboring insane asylum.
The film really tries to capture the feeling of the book rather than be a literal copy, which may bother some aficionados. Coppola has chosen to gradually shift emphasis from a horror tale to the tragic story of an impossible love, without ever losing either thread. By shifting Dracula (Gary Oldman) back and forth from Rumanian hero to terrible monster, and allowing each persona to have its emotional context, he forces a foreboding dilemma on the viewer. Dialog and narration is sparse, just enough rather than florid. Again, nothing is allowed to distract from the building tension.
What completely escaped me on the first viewing was Coppola's vision of a creeping corruption that infects almost all of the characters. British social mores fare little better than those of the vampires. Jack Seward (Richard Grant) is a morphine addict and Lucy Westenra's (Sadie Frost) sexual intensity proves her Achilles heel. Even Van Helsing (Anthony Hopkins) is subject to eerie, almost degenerate moments. This is a less pure, more disturbing world than that of Bram Stoker's imaginings.
Director: Francis Ford Coppola
Year of Release: 1992

Character to watch: Gary Oldman as Dracula.
Journal your answers to the following questions after you watch the movie.
How does this particular character's journey compare with yours?
Did the character develop certain characteristics during the movie that you have or that you would like to have? If so, what are those characteristics?
What obstacles did this character face? What was his or her biggest challenge?
What would you have done differently if you had been in the same position as the character?
Is this character the type of person you would be friends with? Why or why not?