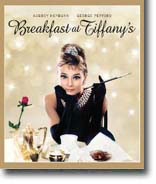 Winner of two Oscars – here's the romantic comedy that sparkles like diamonds. From the opening strains of Henry Mancini and Johnny Mercer's haunting Oscar-winning song Moon River you'll once again be under the alluring spell of that madcap carefree New York playgirl known as Holly Golightly (Audrey Hepburn) in this 24-carat romantic comedy based on Truman Capote's best-selling novella.
George Peppard is the struggling and sponsored young writer who finds himself swept into Holly's dizzying delightfully unstructured lifestyle as she determinedly scours Manhattan for a suitable millionaire to marry.
The sparkling special features on this Anniversary Edition DVD only add to the luster of director Blake Edwards' timeless film classic. Patricia Neal Buddy Ebsen Martin Balsam and Mickey Rooney co-star; Mancini won an additional Academy Award for his enthralling musical score.
Struggling writer Paul Varjak (Peppard) moves into a New York apartment building and becomes intrigued by his pretty, quirky neighbor Holly. Holly's lifestyle confuses and fascinates Paul; in public she flits through parties with a sexy, sophisticated air, but when they're alone she changes into a sweetly vulnerable bundle of neuroses.
"Breakfast at Tiffany's" is flawless blend of a crowd-pleasing star-vehicle for the effortlessly charming Audrey Hepburn and a bittersweet, painfully beautiful look at love, life, and happiness. Director Blake Edwards, the man behind "The Pink Panther" series, "The Party", "Operation Petticoat", "Victor/Victoria", etc., has crafted a truly timeless film based on the novella by Truman Capote. Though numerous elements of Capote's story were altered, the film still has a strong core and message that urges audiences to examine their own lives, loves, and happiness.
Everything about this film is classic. You have the timeless Hepburn and her defining performance as Holly Golightly, a sophisticated, sassy call-girl with a secret past who is ultimately one of the most vulnerable characters Hepburn ever played. Then there's George Peppard, a vastly under-appreciated actor who manages to hold his own next to Hepburn while playing a struggling writer living off an older married woman. Peppard's boyish good looks and surprising depth make him the ideal match for Hepburn's Golightly.
Then of course there's Henry Mancini's wistfully romantic score and the tremendously popular theme-song, "Moon River", a true gem of a song that capture's the film's essence perfectly. In addition, you have Hepburn's fabulous, style-setting wardrobe courtesy of her lifelong friend Hubert de Givenchy. In this one film alone, Hepburn and Givenchy practically invented the "little black dress", popularized ballet flats, and introduced capris as a stylish alternative to regular pants.
Director:  Blake Edwards
Year of Release: 1961

Character to watch: Audrey Hepburn as Holly Golightly.
Journal your answers to the following questions after you watch the movie.
How does this particular character's journey compare with yours?
Did the character develop certain characteristics during the movie that you have or that you would like to have? If so, what are those characteristics?
What obstacles did this character face? What was his or her biggest challenge?
What would you have done differently if you had been in the same position as the character?
Is this character the type of person you would be friends with? Why or why not?