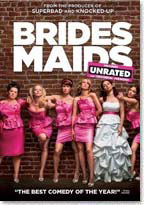 Annie Walker (Kristen Wiig) is a single woman in her mid-30s. Following the failure of her bakery, she lost her boyfriend and her savings, reducing her career to a sales clerk at a jewelry store and forcing her to share an apartment with an obnoxious roommate and his sister. Her business's failure was so painful that she has given up baking entirely.
She has a no-strings-attached sexual relationship with the self-absorbed Ted (Jon Hamm) but hopes for something more from him. Her best friend Lillian Donovan (Maya Rudolph) is virtually her only source of happiness.  Lillian becomes engaged and asks Annie to be her maid of honor.
At the engagement party, Annie meets her fellow bridesmaids: Lillian's cynical cousin Rita (Wendi McLendon-Covey); idealistic friend Becca (Ellie Kemper); raunchy future sister-in-law Megan (Melissa McCarthy); and Helen Harris III (Rose Byrne), the beautiful but over-the-top wife of Lillian's fiancé's boss. Helen and Annie, each jealous of the other's friendship with Lillian, take an instant dislike to each other, but Lillian persuades them to spend time together.
She's one of life's self-saboteurs; she can be blamed for much of the bad juju what's befallen her. She loves her best friend dearly, but the cheap, pathetic side of her can't help but be resentful that their lives are going opposite ways. And since the hits keep on coming, why not now introduce the magnificent Helen. Helen is the gorgeous trophy wife of Lillian's fiance's boss, and she's struck up a friendship with Lillian
As crude as Bridemaids sometimes is, rivaling male-oriented gross-out comedies like The Hangover and such, this is still a story that only a woman would write. My case in point: the scene where Kristen feels the need to keep snatching the microphone from best friend Maya Rudolph's rich soon-to-be sister-in-law. The need to assert just how much these girls love and respect and care about Maya…only a woman would have written that. Guys wouldn't understand how much that means to a woman. Male writers would've just come up with schtick to embarrass the girls.
Director: Paul Feig
Year of Release: 2011

Character to watch: Kristen Wiig as Annie Walker.
Journal your answers to the following questions after you watch the movie.
How does this particular character's journey compare with yours?
Did the character develop certain characteristics during the movie that you have or that you would like to have? If so, what are those characteristics?
What obstacles did this character face? What was his or her biggest challenge?
What would you have done differently if you had been in the same position as the character?
Is this character the type of person you would be friends with? Why or why not?