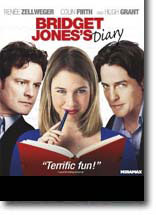 Bridget Jones (Renée Zellweger) is an average woman struggling against her age, her weight, her job, her lack of a man, and her many imperfections. As a New Year's Resolution, Bridget decides to take control of her life, starting by keeping a diary in which she will always tell the complete truth.
The fireworks begin when her charming though disreputable boss takes an interest in the quirky Miss Jones. Thrown into the mix are Bridget's band of slightly eccentric friends and a rather disagreeable acquaintance (Colin Firth) who Bridget cannot seem to stop running into or help finding quietly attractive.
Dissatisfied at age 32 with the direction her life is taking, a young woman vows to make some changes, and to keep herself on track she decides to start a daily journal, hoping it will make her toe the line. Bridget begins with resolutions that include no more drinking or smoking, not being paranoid about her weight, and developing poise. And to avoid any romantic attachments to alcoholics, workaholics, peeping Toms or perverts.
Of course she promptly falls for the one man she knows who embodies all of those characteristics: Her boss, Daniel Cleaver (Hugh Grant). In the meantime, her mother, Pam (Gemma Jones), continues to play matchmaker for her daughter.
At a holiday gathering of friends and family, Pam nudges her in the direction of an old childhood chum, Mark Darcy (Firth), now a respectable attorney, and recently divorced. Their initial meeting, however, proves to be a less than monumental event, further complicated by the fact that Cleaver was Darcy's Best Man at his wedding, and has some tales-out-of-school to tell about the subsequently ill fated marriage that puts Darcy in a rather bad light.
But Bridget could care less; she thinks Darcy is rude and a bore, and anyway, Daniel is her guy. Work is good, her life is going well and as she is about to wake up and realize she hasn't kept a single one of her resolutions.
Director: Sharon Maguire
Year of Release: 2001

Character to watch: Renée Zellweger as Bridget Jones.
Journal your answers to the following questions after you watch the movie.
How does this particular character's journey compare with yours?
Did the character develop certain characteristics during the movie that you have or that you would like to have? If so, what are those characteristics?
What obstacles did this character face? What was his or her biggest challenge?
What would you have done differently if you had been in the same position as the character?
Is this character the type of person you would be friends with? Why or why not?