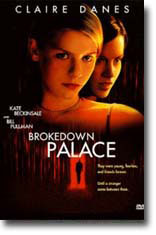 Alice (Claire Danes) and Darlene (Kate Beckinsale) are best friends on their post-high-school whirlwind vacation. Telling their parents they're off for Hawaii, they head instead to Thailand, where they stay at a $6-a-night dive and sneak drinks at a posh hotel. They both fall sway to the charms of a handsome Australian (Daniel Lapaine), who invites them to Hong Kong
Off they go, although unbeknownst to them (or is it? this question is never fully answered), one of them has heroin in her backpack. Sentenced to 33 years in a Thai jail, they find their friendship begins to deteriorate as their trust in each other fades. They enlist the help of Yankee Hank (Bill Pullman), a greedy but knowledgeable American lawyer living in Asia.
The main foci of this film are the following lessons: friendship is powerful, don't trust strangers, and nice girls shouldn't drink and sleep around. The film's bleakest moments, in the jail, aren't all that bad, and in this respect Brokedown Palace has nothing on the intensity of films such as Midnight Express or even Return to Paradise. Yet Danes and Beckinsale prove they are strong actresses, and their characters' friendship is suitably complex and believable.
In this riveting thriller, a dream vacation becomes a nightmare. Alice is impulsive and reckless; Darlene is more reserved. But when each falls for the same mysterious man, both girls throw caution to the wind, and in one instant, their lives are changed forever. Now in a foreign land, they must prove their innocence and contemplate the ultimate sacrifice for a friend.
Director:  Jonathan Kaplan
Year of Release: 1999

Character to watch: Claire Danes as Alice Marano.
Journal your answers to the following questions after you watch the movie.
How does this particular character's journey compare with yours?
Did the character develop certain characteristics during the movie that you have or that you would like to have? If so, what are those characteristics?
What obstacles did this character face? What was his or her biggest challenge?
What would you have done differently if you had been in the same position as the character?
Is this character the type of person you would be friends with? Why or why not?