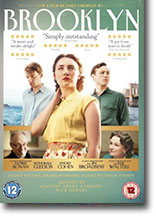 Eilis Lacey (Saoirse Ronan) must leave her beloved sister Rose (Fiona Glascott), and mother, Mary (Jane Brennan), behind on 'The Emerald Isle' to come to America for a chance at a better life sponsored by her mentor, Father Flood (Jim Broadbent). She will arrive with a job and a dream is in her smiling Irish eyes.
Her passage is fraught with seasickness and, at times, tossed by terrible weather; thank goodness for a traveled bunkmate with a sassy attitude. Arriving at Ellis Island in New York a bit haphazard and moving directly into a strict but quite amusing, Mrs. Keogh's (Julie Walters) boarding house, Eilis is anxious and very homesick in her new surroundings. The letters from home keep her going as she begins her new life in 1952.
She begins working in a hurried department store and Father Flood keeps her afloat with his support while also enrolling her in night classes for Bookkeeping. She also volunteers at an Irish soup-type kitchen so the men can have food for Christmas and a camaraderie together. These workers have built the bridges, tunnels and so much more in the city and now are unemployed. It is extremely difficult for the Irish people still.
Their faces are saddened because of their feelings of longing from the Irish folk songs being sung in memory of their beloved motherland. Eilis is a lovely young woman with a generous soul and a heart of gold. It is no wonder that she meets a new fella, Tony (Emory Cohen), quite soon. He is not Irish but Italian and also works as hard as Eilis for the American Dream. It is at this point that they begin their story together in New York as he is besotted with her and so is Eilis concerning him.
Director: John Crowley
Year of Release: 2015

Character to watch: Saoirse Ronan as Eilis Lacey
Journal your answers to the following questions after you watch the movie.
How does this particular character's journey compare with yours?
Did the character develop certain characteristics during the movie that you have or that you would like to have? If so, what are those characteristics?
What obstacles did this character face? What was his or her biggest challenge?
What would you have done differently if you had been in the same position as the character?
Is this character the type of person you would be friends with? Why or why not?