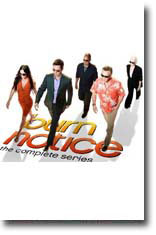 Burn Notice combines thrilling espionage action and wry humor with intricate plot twists and gripping suspense, showcasing one of the smartest, sexiest shows on television. After being mysteriously blacklisted from the intelligence community, former CIA operative Michael Westen (Jeffrey Donovan) must rely on his extraordinary skills to uncover the secrets behind his burn notice. As he gets closer to the truth, Michael and his hard-hitting team take on a deadly onslaught of crime lords, drug cartels, and international terrorist threats.
Professional spies don't just get fired like regular people. Instead, they get "burned". And when you are burned, you're exposed and left with absolutely nothing to your name. No cash, no credit, no credit score, no job history, and you're stuck in whatever city the agency decides to leave you in.
Michael is one such spy. He was burned and decides to take his revenge on the people who burned him. But in order to do so, he decides he cannot do this alone, so he teams up with people from his past.
His former partner Sam Axe (Bruce Campbell), an ex-Navy SEAL who used to rat on him to the FBI and more than enjoys a good cocktail or two. And his on again, off again ex-girlfriend Fiona Glenanne (Gabrielle Anwar), who enjoys explosives and firearms as much as fashion and yogurt.
Together, they take on cases that help individuals throughout the city of Miami, while Michael puts together the pieces of the puzzle about the people that burned him. They use lots of yogurt and C4 in order to do so.

Character to watch: Jeffrey Donovan as Michael Westen.
Journal your answers to the following questions after you watch the series.
How does this particular character's journey compare with yours?
Did the character develop certain characteristics during the movie that you have or that you would like to have? If so, what are those characteristics?
What obstacles did this character face? What was his or her biggest challenge?
What would you have done differently if you had been in the same position as the character?
Is this character the type of person you would be friends with? Why or why not?