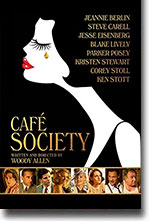 Woody Allen's latest European-styled film actually takes place in Hollywood and New York City. Playing the role he usually writes for himself is Steve Carell and Jesse Eisenberg. Carell plays Hollywood super-agent, Phil Sterns. No, he doesn't have any superpowers but he knows everybody in town and is a big deal. He gets a call from his sister Rose (Jeannie Berlin) who asks him to get a job for her son and Phil's nephew, Bobby (Eisenberg) who needs a change from his dad's (Ken Stott) jewelry business.
After playing hide-and-seek with Bobby for a couple weeks, Phil finally sees the kid and asks his secretary, Vonnie (Kristen Stewart) to show him around town. Bobby falls hard for Vonnie but she's having an affair with a married man, and you'll never guess who. Eventually, push comes to shove and Vonnie must choose which man to marry. Of course Phil will need to divorce his wife of 25 years, Karen (Sheryl Lee who I didn't recognize…shame). So will it be older Woody, I mean Phil, or younger Woody, that is Bobbie? Follow the money as they say.
Disillusioned, Bobbie returns to NYC where his older brother and gangster, Ben (Corey Stoll) gives him a job running a new night club. Bobby, is also good friends with Steve and Rad Taylor (Paul Schneider and Parker Posey). They have a modelling agency and wouldn't you know it, Bobbie gets Blake Lively as his consolation prize. She plays another Veronica, but isn't called Vonnie. Bobby and Veronica get married and have a baby that was already in the oven. When Phil and Vonnie come to New York on business, they stop at Bobbie's club and well, feelings need to be sorted out between Bobbie and Vonnie.
Director: Woody Allen

Year of Release: 2016

Character to watch: Steve Carell as Phil Stern
Journal your answers to the following questions after you watch the movie.
How does this particular character's journey compare with yours?
Did the character develop certain characteristics during the movie that you have or that you would like to have? If so, what are those characteristics?
What obstacles did this character face? What was his or her biggest challenge?
What would you have done differently if you had been in the same position as the character?
Is this character the type of person you would be friends with? Why or why not?