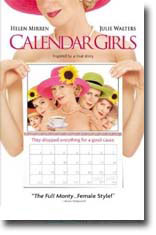 In the sensible yet elegant hands of actresses Helen Mirren and Julie Walters, Calendar Girls walks a fine line between sappiness and snickering and ends up both wonderfully funny and gently touching. When her best friend Annie (Walters) loses her husband, Chris (Mirren) cooks up a scheme to memorialize him:
They and their friends–all fiftysomething women–will make a nude calendar to raise money for the hospital where he died. The calendar becomes hugely popular, but the success may drive a wedge between the two women's friendship.
Based on an actual event, Calendar Girls carefully balances the stories of several women as it follows the calendar's media explosion, becoming a surprisingly moving fable of loss, determination, and the perils of fame. And let's face it–Helen Mirren is one of the wittiest and sexiest women alive, clothes on or not.
The women are 12 ordinary members of the Women's Institute, a prim and proper local ladies' club, decide they need to find a more compelling way to raise money for a new charity. They turn to their traditional annual calendar and give it a very untraditional twist. Behind the usual baked goods, the apple pressing, and the flower arrangements are the women — completely nude.
The true story happened in 1999, when eleven members of the District Women's Institute in Rylstone, North Yorkshire, England posed starkers on a year 2000 calendar printed up to collect funds to benefit leukemia research after the death of John Baker, Assistant National Park Officer for the Yorkshire Dales and husband of WI member Angela, of non-Hodgkin's lymphoma in 1998.
What made the venture unusual was that the models were all just local ladies in their 40s, 50s, and 60s. In the UK, 88,000 copies were eventually sold, and 250,000 in the States.
Director:  Nigel Cole
Year of Release: 2003

Character to watch: Helen Mirren as Chris.
Journal your answers to the following questions after you watch the movie.
How does this particular character's journey compare with yours?
Did the character develop certain characteristics during the movie that you have or that you would like to have? If so, what are those characteristics?
What obstacles did this character face? What was his or her biggest challenge?
What would you have done differently if you had been in the same position as the character?
Is this character the type of person you would be friends with? Why or why not?