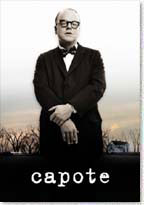 This film depicts Truman Capote (Philip Seymour Hoffman), during his research for his book In Cold Blood, an account of the murder of a Kansas family, the writer develops a close relationship with Perry Smith (Clifton Collins Jr.), one of the killers. The film opens in Kansas with the discovery of the dead bodies of four of the members of the Clutter family by a family friend.
While reading The New York Times, Capote is riveted by the story of the Clutters and calls The New Yorker editor William Shawn to tell him that he plans to document the tragedy.  He travels to Kansas with his childhood friend Nelle Harper Lee (Catherine Keener), the author of To Kill a Mockingbird. Capote sets about interviewing those involved with the victims, the Clutter family, with Lee as his go-between and facilitator.
It is a complex and multi-layered work of art. Truman Capote, under assignment from the New Yorker magazine, explores a terrible murder of a family of four in the American heartland. He asks his childhood friend from Monroeville Alabama, Nelle Harper Lee, to act as his assistant and together they will explore the murder and its impact on the community for a magazine article. Phillip Seymour Hoffman delivers the acting performance of the year playing the role of the cognitively unique Capote. Catherine Keener was superb playing the solid strength of Harper Lee.
When the killers are soon caught and Capote sees the half-Native American Perry Smith, an odd chemistry develops and Capote becomes obsessed with Smith. Yet Capote manipulates the two murderers and even pays for their first court appeal in order to obtain more information for the article that has now developed into a book. Clifton Collins is excellent in the role of Perry Smith and Chris Cooper is excellent as the head of the Kansas division of the FBI.
Capote had a rare gift, the ability to make himself totally vulnerable through painful self revelation, so as to obtain entry into soul of his target. He does this with Smith and they begin a careful relationship whereby they reveal themselves to each other like chess players, each making careful calculated moves so as to obtain the maximum amount of information and manipulation of the other party.
Director: Bennett Miller
Year of Release: 2005

Character to watch: Philip Seymour Hoffman as Truman Capote.
Journal your answers to the following questions after you watch the movie.
How does this particular character's journey compare with yours?
Did the character develop certain characteristics during the movie that you have or that you would like to have? If so, what are those characteristics?
What obstacles did this character face? What was his or her biggest challenge?
What would you have done differently if you had been in the same position as the character?
Is this character the type of person you would be friends with? Why or why not?