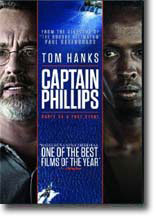 Director Paul Greengrass collaboration with a rarely better Tom Hanks, shows the filmmaker further refining his style, telling a true-life story of heroism with an immediacy that puts most movies based on fact out to staid pasture. Even if you know the historical record, there's no way to rest easy.
Based on the book A Captain's Duty: Somali Pirates, Navy SEALS, and Dangerous Days at Sea, the story follows Cpt. Rich Phillips (Hanks), a no-nonsense family man taken beyond the brink when his cargo ship's travel around the African Horn is disrupted by four pirates.
As the captain attempts to protect his crew and placate his captors (led by the outstanding newcomer Barkhad Abdi), his options–as well as his surroundings–quickly narrow. Greengrass, working from a script by Billy Ray (Shattered Glass), delivers what often feels like a master class in thriller filmmaking, sketching out the geography in clean, quick lines while also giving room for his initially faceless villains to develop into complex three-dimensional figures.
Two-plus hours is a long time for the nerves to remain jangled, admittedly, and the director's trademarked in-your-face handheld techniques can sometimes seem on the verge of overwhelming the narrative. Even an early, innocuous ride to the airport is constructed like a panic attack.
What ultimately takes Captain Phillips to the next level, however, are the final moments, when Greengrass chooses to hold still and let Hanks assume control, in a scene that brilliantly lets the character finally react to the unimaginable pressures of his ordeal. In real life, as filmmaker and star unforgettably demonstrate, crisis moments never cut neatly to black.
Director: Paul Greengrass
Year of Release: 2013

Character to watch: Tom Hanks as Captain Phillips.
Journal your answers to the following questions after you watch the movie.
How does this particular character's journey compare with yours?
Did the character develop certain characteristics during the movie that you have or that you would like to have? If so, what are those characteristics?
What obstacles did this character face? What was his or her biggest challenge?
What would you have done differently if you had been in the same position as the character?
Is this character the type of person you would be friends with? Why or why not?