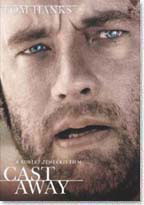 Chuck Noland (Tom Hanks) is a FedEx systems analyst who travels worldwide. He lives with in Memphis, Tennessee with his girlfriend Kelly Frears (Helen Hunt). The couple plans to get married, but Chuck's busy schedule makes it difficult. It's Christmas 1995 and FedEx calls him away to resolve a problem in Malaysia.
Kelly drives him to the airport, where they exchange heartfelt goodbyes. As Chuck is flying through a violent storm, his airplane crashes into the Pacific Ocean. He escapes the sinking plane and is saved by an inflatable life-raft. As he clings to the life-raft, he loses consciousness, and floats all night before being washed up on an island.
After he awakens the next morning, he explores the island and soon discovers that it is uninhabited. FedEx packages from the crashed plane wash up on the shore, as does the corpse of one of the pilots. He fashions together a raft and makes an escape attempt, but he cannot make it past the powerful surf. He searches the island for food, water, shelter, and opens the packages, finding a few useful items, including a volleyball.
During Chuck's first attempt at making a fire, he cuts himself. Angry, he picks up the volleyball and throws it. The volleyball is covered with blood, so he draws a face in the bloody hand print on the ball, names it Wilson, and begins talking to it.
Hanks gives a performance that, over time, will come to be known as one of the single most magnificent acting accomplishments ever. It's hard to explain, but somehow Hanks allows us to re-visit and vicariously share the feeling of the first time. His physical and emotional transformation is nothing short of miraculous. You'll want to pay particular attention to his initial reactions to sounds the island makes.
Director: Robert Zemeckis
Year of Release: 2000

Character to watch: Tom Hanks as Chuck Noland.
Journal your answers to the following questions after you watch the movie.
How does this particular character's journey compare with yours?
Did the character develop certain characteristics during the movie that you have or that you would like to have? If so, what are those characteristics?
What obstacles did this character face? What was his or her biggest challenge?
What would you have done differently if you had been in the same position as the character?
Is this character the type of person you would be friends with? Why or why not?