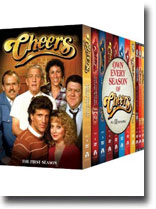 Ted Danson, Shelley Long, Kirstie Alley, Rhea Perlman, Kelsey Grammer. With some of the most memorable characters ever on TV, Sam, Diane, Rebecca, Woody, Cliff, Dr. Crane, Carla and Norm, brought the social exchanges of the quirky patrons of a Boston tavern into millions of homes for 11 hit seasons.
Tip your glass to this complete series set of 269 episodes on a whopping 45 DVDs. This show started off at the bottom and quickly endeared itself to the nation until it reached the number one slot on television.
Cheers, if you haven't seen it yet, is about a lovable, alcoholic bartender, Sam Malone, who drinks himself out of a job, and a marriage, and ends up buying a bar. His regulars include an accountant, Norm, who bemoans the fact that he has no life, yet his life is Cheers and his family is Sam,and the other patrons.
What's so charming about Norm is that everyone yells out 'Norm' when he walks into the bar, and when someone asks him how he'd doing, Norm always has a witty comeback, such as: "how's life treating you?" and Norm answers, "it's a dog-eat-dog world, and I'm wearing milk bone underwear".
Carla (Rhea Perlman) is the only actor who is less than stellar, but her character is so overwrought with zaniness that the acting matters not. Cliff (John Ratzenberger) created himself into one of the most well-known and well-spoofed of characters in television lore. Is it a coincidence that the demise of our U.S. Postal Service was inversely proportional to the increased popularity of this brainless two legged barstool?
Norm (George Wendt) got himself typecast into such a beloved role for which the actor would never wish to live down. Character recognition of Mr. Wendt's "Norm (Norman) Peterson." Woodrow Tiberias Boyd (Ole "Woodhead" Woody Harrelson himself) and Coach (Nick Colasanto) complete the ensemble cast that (along with the leads of Sam Malone (Ted Danson), Diane "Don't you think if I could have sent her to prison I would have" Chambers (Shelley Long) and Rebecca (Backseat Becky/ Beck Beck as played by Kirstey Alley) gave life to a television show rarely matched before or since in comedic genius with heartwarming tenderness.

Character to watch: Ted Danson as Sam Malone.
Journal your answers to the following questions after you watch the series.
How does this particular character's journey compare with yours?
Did the character develop certain characteristics during the movie that you have or that you would like to have? If so, what are those characteristics?
What obstacles did this character face? What was his or her biggest challenge?
What would you have done differently if you had been in the same position as the character?
Is this character the type of person you would be friends with? Why or why not?